Upper Roller Universal Plate Rolling Machine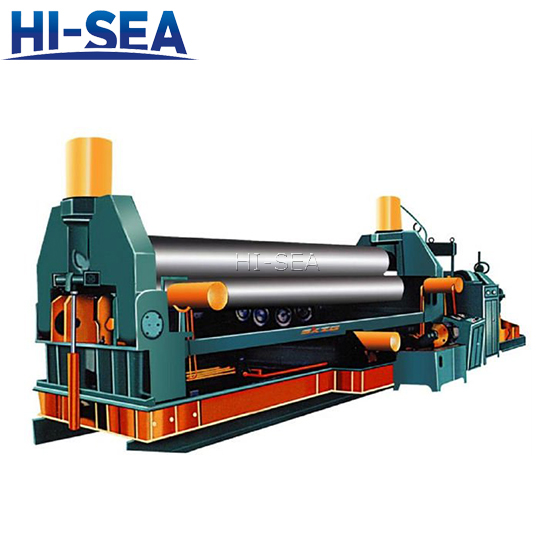 Upper Roller Universal Plate Rolling Machine
1. Technical Requirements of Upper Roller Universal Plate Rolling Machine
The material of wielding component is not lower to Q235A, thickness of plate of every component, must satisfied the requirements about strength, steel, stability, safety and must observe some standards of roiling machine and steel construction.
All wielding joints must satisfy some standard, the high of wielding joints can't lower to the smaller thickness of the two work piece.
Must do appearance inspection to wielding joints of steel, surface of weld bead must even, beautiful, slick and sly, can't has defects like as flaw, un-wield fuse, blowhole and so on.
The spindle of roller must finished by bore machine.
2. Upper Roller Universal Plate Rolling Machine Specification
The specification is optional, we can accommodate your requirements, please don't hesitate to contact us!
Control way: lift movement of up roller test by shift sensor and show as figure
Pressure: ≥650T
Work state: cold roll
Max thickness of coiled plate: 10mm (pre-bend 8mm)
Max width: 2500mm
Yielding limit of coiled plate: 245Mpa
Min diameter of roll with max thickness and max width: Ф600mm
Rolling speed: 4.5m/min
Pressure speed of up roller: about 120mm/min
Synchromesh accuracy of up roller: 0.20mm
The diameter of up roller: Ф250mm
The diameter of down roller: Ф145mm
Central distance between two down rollers: 200mm
Working pressure: 19.5Mpa
Main motor: 5.5KW
The power of hydraulic motor: 4 kW
3. Up Roller of Upper Roller Universal Plate Rolling Machine
(1) Up Roller's Lifting Device
Using double oil vats to drive directly, the max pressure is 19.5Mpa. Up-roller installed roiling bearing, bearing base, piston rod do up and down lifting movement along vertical guides through the bearing. The sides bearing base installed shifting sensor to test move location of the sides of up roller, and show as figure. The material of up roller does 42GrMo heat treatment.
(2) Up Roller's Balance Device
Lifting up roller to highest position, and then the balance beam ends on up roller hold the up roller, so that up roller in balance state. So, we can easy to turn over and close turnover bearing base. The position of up roller can test by SQ.
Related products for "Upper Roller Universal Plate Rolling Machine"
Contact with us now