3-roller symmetrical plate rolling machine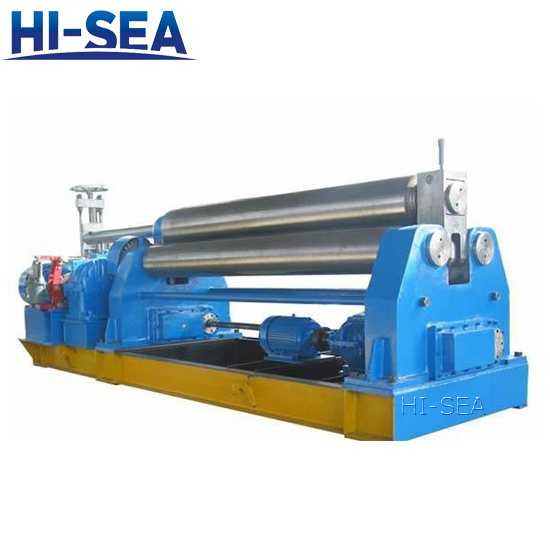 3-Roller Symmetrical Plate Rolling Machine
1. 3-Roller Symmetrical Plate Rolling Machine Preface
3-roller symmetrical plate rolling machine is high-precision large and medium sized rolling machine, with upper roller ascending and descending hydraulic driven, synchronous precision at ±0.15mm, displacement numeric displayed and the two lower rollers master transmission. The upper roller ascends and descends vertically in the center between the lower rollers, driven by screw rod and worm gear. The two lower rollers move rotary and provide torque to rolling plates by the movement of the reducer output gear and lower roller.
2. 3-Roller Symmetrical Plate Rolling Machine Descriptions
This economical plate roll has the ability to handle up to 13 gauge mild steel over its whole 4' length. This electrically driven plate roll is powered by a 2 hp 220 volt single phase motor allowing it to be used almost anywhere.
Even though it is electrically driven the back roll movement is controlled by a hydraulic system. This industrial grade system allows the back roll to move up and down as well as tilt left and right when the finished product calls for coning. A digital readout is also provided to identify the position of the back roll as well. Three wire grooves are also included for those time that wire rings are need to be formed.
The operation of this machine is all done on a convenient foot pedestal. Once the pinch is set the foot pedal contains forward and reverse pedal as well as buttons to control the up and down movement of the back roll. For safety, it has emergency stop cable on the front and back of the machine.
3. 3-Roller Symmetrical Plate Rolling Machine Main Parameters
The technical parameter is optional, we can accommodate your requirements, please don't hesitate to contact us!
| | | | | |
| --- | --- | --- | --- | --- |
| Model | Max. Plate Thickness(mm) | Plate Width(mm) | Diameter of Upper Roller(mm) | Main Motor Power(kw) |
| W11NC-5*7000 | 5 | 7000 | 440 | 11 |
| W11NC-6*9500 | 6 | 9500 | 500 | 15 |
| W11NC-8*6000 | 8 | 6000 | 420 | 15 |
| W11NC-8*7000 | 8 | 7000 | 450 | 15 |
| W11NC-8*8000 | 8 | 8000 | 470 | 15 |
| W11NC-8*9500 | 8 | 9500 | 510 | 15 |
| W11NC-10*6000 | 10 | 6000 | 440 | 15 |
| W11NC-10*9000 | 10 | 9000 | 470 | 15 |
| W11NC-12*6000 | 12 | 6000 | 460 | 15 |
| W11NC-12*9000 | 12 | 9000 | 530 | 22 |
| W11NC-16*6000 | 16 | 6000 | 500 | 22 |
Contact with us now