Automatic Roll Forming Machine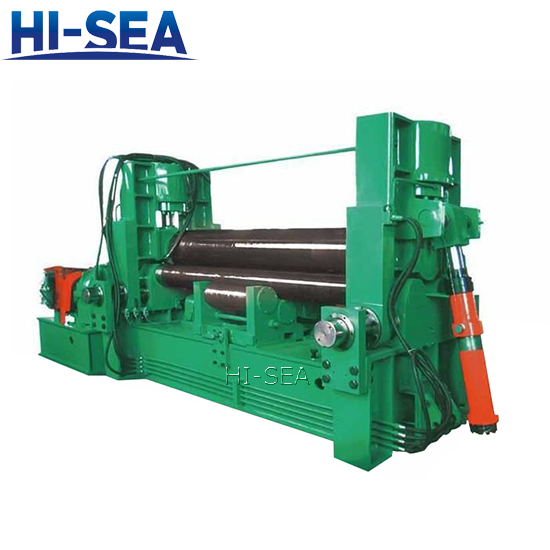 Automatic Roll Forming Machine
1. Automatic Roll Forming Machine Preface
The automatic roll forming machine can pre-bend the ends of plate, feed steel plate just one time, and then to pre-bend the ends of plate, roll the workspace to drums shape, don't need to return. The working up roller is the main drive roller, the down rollers and side roller use hydraulic drive to do elevate movement. And move controlled by computer, horizontal adjust automatic, show by screen, the synchromesh accuracy attached ±0.2mm. Turnover and resume of flip-bearing used hydraulic to drive. Installed balance system on the ends of up roller, so it's easy to unload work piece. Adopt mobile independence operator table, so can operator at any time and any place, the machine has safety interlock device. For a world it has high technology, overall function, high accuracy and easy to operator. So it's the model rolling machine, it's the first choice in energy, transport, fossil oil, chemical, shipbuilding, steel and some other industries.Automatic Roll Forming MachineAutomatic Roll Forming Machine
This machine composed of four working rollers, left and right rack of machine, base board, rolling rhombus tube function, turnover part, device part, sensor part, hydraulic system, electrical system and so on.
2. Automatic Roll Forming Machine Hydraulic System
The hydraulic system of this device has the following functions: drive oil vat do elevating movement, drive the sides rollers do inclined elevating movement, and drive the turnover oil vat do elevating movement.
With the help of electrical liquid commutate valve to control the down rollers to do elevating movement and the sides' rollers to do inclined elevating movement. So the working rollers can stop on arbitrary position. The circuit of turnover oil vat installed one-way throttle valve, it can adjust the speed of executive mechanism.
The hydraulic system design reasonable, work good and allocate high accuracy filter to ensure oil clear. The system pipeline arrange regularity, operator easy, act flexibility. All above these ensure the system no percolation.
The main valves of hydraulic system choose from Taiwan. The pump, filter, motor and seal element choose from native and foreign famous company, so all these have high performance and quality. All components done test, sift, lower the breakdown do our best.
3. Characteristics of Automatic Roll Forming Machine
This machine is four rollers rolling machine controlled by computer. It can pr-bend the ends of plate, feed plate and don't return. So it pr-bend the ends of plate and roll shape just one time. The four working rollers do forge and material treatment, HB220~260, combination mechanical performance is good, the strength is high, friction endurance is high, so it suit high load work and have long life.
The work roller end bearing adopt roller bearing, so it has small friction coefficient, decrease reactive power loss, and reduce energy consumption. Lifting move of bottom roller and sides rollers controlled by computer, automatic leveling, show as figure at the same time. The synchronized precision ±0.2mm. Plate bending high-precision, easy to use
The down roller and side rollers can be tilted single-ended, and can be up and down in the tilted state. In favor the cone-shaped work piece rolling. This machine has removable console, the operator more convenient to use, touch-screen display the location of three work rollers, so that the operator at a glance.
The machine control system using Japan's OMRON intelligent high-speed PLC programmable logic controller, the system has a fault diagnosis, intelligent judge error, machine tool parts of the monitoring, processing logic, memory, such as power protection; the system with anti-jamming capability Strong, long service life, earthquake, etc. stable. The sensors of bottom and side rollers have high accuracy, to ensure position accuracy and monitor the roller position.
4. Automatic Roll Forming Machine Main Components
| | | | |
| --- | --- | --- | --- |
| Number | Component Name | Model | Manufacturer |
| 1 | Work roller | Up, bottom, side rollers | South steel |
| 2 | Ends roller of roller | Roller bearing | |
| 3 | Main motor | YZR series motor | Jiangsu |
| 4 | Hydraulic valve | | Taiwan |
| 5 | Seal washer of oil vat | YX series seal washer | Shenyang |
| 6 | High voltage soft pipe | | Kaifeng |
| 7 | PLC | C200HE-CPU  | ORMON |
| 8 | Touch screen | NT20-ST | ORMON |
| 9 | photoelectric encoder | | Chengdu |
Contact with us now