MARINE & OFFSHORE EQUIPMENT
INDUSTRY EQUIPMENT
STOCK LIST
Metal Shearing Machine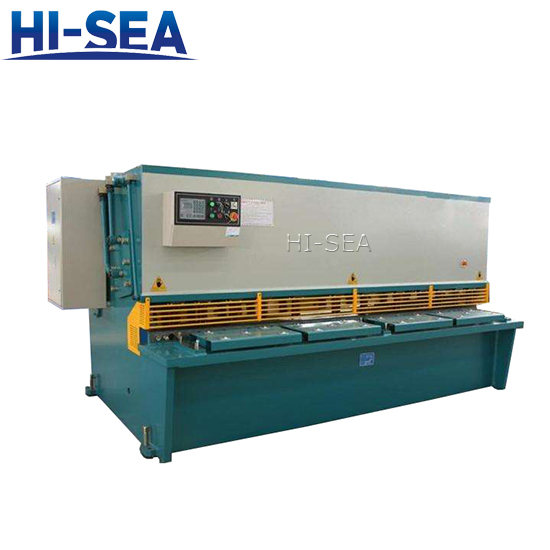 Metal Shearing Machine
1. Summary of Metal Shearing Machine
The metal shearing machine from HI-SEA Marine is a great shear for those fabrication shops that mainly work with smaller gauge sheet metal. It has an 80" cutting width and can shear up to 14 gauge mild steel. The table of this machine is made from ground and polished steel plate allowing enough rigidity to shear at full capacity over and over again. The metal shearing machine can also cut through 18 gauge stainless steel.
Operating on 220 volt three phase power, the industrial grade hydraulics pull the top shearing head with top blade smoothly through the material being cut increasing blade life. The shear has top and bottom blades have multiple cutting edges that extends blade life. This machine features hydraulic hold downs that hold the sheet metal firmly against the in feed table eliminating any lifting of material as it is cut which improves blade life.
The metal shearing machine has a manual back gauge or material stop as well as front support arms to help the operator handle the sheet metal and provide for repeatable shearing. The operator control panel has a switch that allows the fabricator to jog the blade, for accurate blade adjustment, or go into an automatic mode that is initiated by the foot pedal control.
2. Metal Shearing Machine Specification
The technical parameter is optional, we can accommodate your requirements, please don't hesitate to contact us!
Back Gauge Length 24"
Shear Length 80"
Motor 3 hp
Thickness (SS) 14 ga. (18 ga.)
Strokes Per Minute 26
Front Gauge Length 24"
Blade Angle 1°
Power 220V / 3-phase
Shipping Weight 3,700 lbs.
Minimum Material Thickness 24ga
Shipping Dimensions 104" x 36" x 53"
3. Metal Shearing Machine Advantages
(1) Uses the steel plate welding structure, hydraulic transmission, nitrogen return, easy to operate, reliable performance, beautiful appearance.
(2) Easy to operate, reliable performance, beautiful appearance.
(3) There are signs blade gap adjustment instructions, adjust the light quickly.
(4) On the line of lighting fixtures equipped with lights.
(5) Work area with the fence-style personal safety protection device.
(6) After the block size and the shear number of a digital display devices.
Contact with us now