MARINE & OFFSHORE EQUIPMENT
INDUSTRY EQUIPMENT
STOCK LIST
Plate Shearing Machine Manufacturer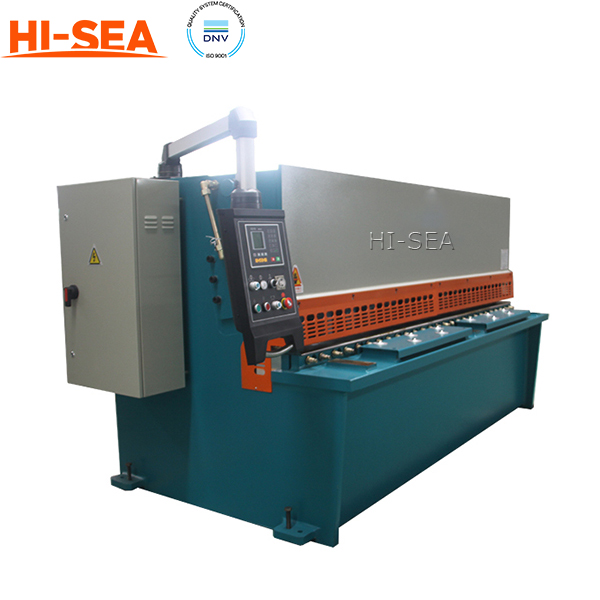 Plate Shearing Machine Manufacturer
1. Plate Shearing Machine Manufacturer Description
When it comes to shearing metal, HI-SEA Marine offers a selection of high quality, high production metal shearing machines for sale that are a cut above the competition. With our superior designed hydraulic shearing machine lineup, all possible sheet metal and plate cutting jobs and requirements will be met, by one or the other of our three series of shearing machines. Whether it be a need for a hydraulic shear consider our Variable Rake Guillotine Shear, or our Swing Beam Shear or maybe you're considering a Power Operated Mechanical Shear, either way no base is left uncovered. We started with basic hand operated sheet metal shears many years ago and now offer hydraulic metal cutting shears manufactured in our world class manufacturing facilities.
Our design engineers went far beyond those requests and conducted a complete revamp of our existing shear machine line. Consequently HI-SEA Marine is proud to offer our customers the most complete up to date hydraulic shearing machines available on the market today.
2. More Details about Plate Shearing Machine Manufacturer
HI-SEA Marine's flagship hydraulic shear is the VS series shearing machine. Our Variable Rake guillotine style shears have a CNC control that adjusts blade clearance, cut length and cutting angle automatically. These powerful hydraulic shearing machines are quite flexible and can handle thin to thick materials and narrow to wide sheets with fast cycle times. Our Variable Rake guillotine shears can cut 1/4 inch to 1 inch thick materials in lengths ranging from 10 feet to 30 feet.
Our SBT series of hydraulic shears are of the swing beam design, the swing beam shears have a heavy and robust swing arm, with a proven reliable designed frame. Over-sized roller bearing guides and box construction provide a constant blade gap over the full cutting length. This design will insure the shears deliver a straight cut every time. A quick-set single point blade gap adjustment is conveniently located on the side frame of the machine. The operator can easily and quickly change this setting, as the material type and thickness demands, for a high quality blank. Our new SBT line of shears can handle sheet thicknesses of one quarter of one inch up to three quarters of one inch in mild steel. Shearing lengths range from 10 foot 2 inches to 13 foot 4 inches in sheet processing width.
For our fabrication customers who may not need or desire the sophistication of our hydraulic plate shearing machines, we have a shear you should probably consider. Our superb line of mechanical shears the MS series Power Operated Mechanical Shear may give you just the edge you were looking for. These high performance motor-driven shears utilize direct drive inverter controlled technology which provides efficient operations. Rapid cutting of the piece part is realized without sacrificing the cutting quality. This modestly priced series plate shear is a productive solution for serial production parts. Our mechanical shears are each equipped with table top ball transfers in the table, this assists in feeding the sheet as well as reducing marking on sensitive materials. Sheet hold downs are a simple spring style hold down system which securely holds the material in place during the shearing process.
As you look more closely at our offering of high quality steel shearing machines we think you will agree, we has a shearing machine that can "cut the mustard" in your shop. Please give us an opportunity to show you who HI-SEA Marine is, and how we can help your bottom line by improving your production. Combine those advantages with our industry renowned service, our well-staffed emergency service line, and a parts department that will have what you need when you need it. If your initial investment includes tooling up your plate shear, HI-SEA Marine has you covered there as well.
Related products for "Plate Shearing Machine Manufacturer"
Contact with us now