Hydraulic Shearing Machine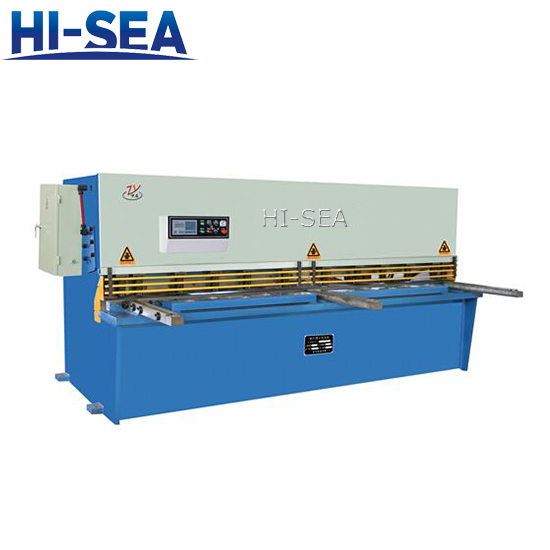 Hydraulic Shearing Machine
1. Hydraulic Shearing Machine Description
The hydraulic shearing machine from HI-SEA Marine is a machine that should be in every sheet metal fabrication shop. This 52" shear will cut 14 gauge mild steel over its full length and operates on 220 volt single phase power. The machine comes standard with the adjustable back gauge for precise repeatability. It also comes standard with table guides and front arm extensions.
The machine is like the other HI-SEA Marine compact hydraulic shears, have the upper carriage is built to minimize any deformation and the upper and lower blades have multiple shearing edges, both extend blade life and save your shop money. The operator console has the controls to jog the upper carriage, produce one cut with one foot pedal push, or remain in an auto mode by holding the foot pedal down. It also has hydraulic hold downs that hold the sheet solidly to the table not allowing the material to lift when being sheared.
2. Technical Data of Hydraulic Shearing Machine
The technical parameter is optional, we can accommodate your requirements, please don't hesitate to contact us!
Back Gauge Length 24"
Shear Length 52"
Motor 3 hp
Thickness (SS) 14 ga. (18 ga.)
Strokes Per Minute 35
Front Gauge Length 24"
Blade Angle 1°
Power 220V Single Phase
Shipping Weight 1881 lbs.
Minimum Material Thickness 24ga
Shipping Dimensions 74" x 36" x 53"
3. Hydraulic Shearing Machine Characteristic
(1) Uses the steel plate welding structure, hydraulic transmission, nitrogen return, easy to operate, reliable performance, beautiful appearance.
(2) Easy to operate, reliable performance, beautiful appearance.
(3) There are signs blade gap adjustment instructions, adjust the light quickly.
(4) On the line of lighting fixtures equipped with lights.
(5) Work area with the fence-style personal safety protection device.
(6) After the block size and the shear number of a digital display devices.
Contact with us now