Mechanical Plate Shearing Machine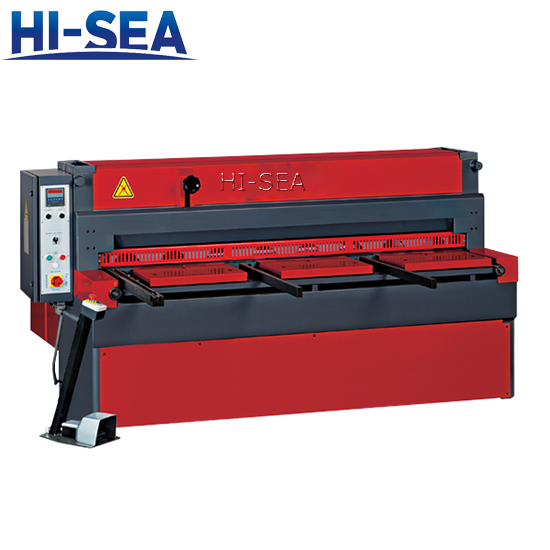 Mechanical Plate Shearing Machine
1. Mechanical Plate Shearing Machine Preface
The mechanical plate shearing machine is powerful, motorized action to your light to moderate cutting projects with the ability to manage extra sensitive sheet metal to dense plastics. Precise handling of ultra-thin sheets is backed by a specialized t-slotted support system with ball transfers in the table for reduced marking on materials. There is also the advantage of sheet hold downs, a spring style that clamps materials securely in place with a non-slip rubber pad. Because of this amplified protection, this machine lessens the need for constant supervision by personnel. The sheer provides capacities allowing it to handle 12-10 gauge sheets and lengths ranging from 4'-10'.
This shearing machine utilizes a breakthrough in machine technology called direct drive, which couples the load directly to the motor without any mechanical transmission. The benefits of this technology are increased gains in motion control loops which enhanced precision that speeds up the production cycle. Using direct drive technology has proven to boost productivity as much as 40% in addition to reducing the amount of waste up to 60%. This machine is essential for maximizing serial production where high quantity does not have to impact the degree of quality. Direct drive is also effective in minimizing industrial noise within your operation.
2. Description of Mechanical Plate Shearing Machine
This series has been meticulously engineered with top of the line mechanical components from the world's most reputable machinery brands. It has been constructed with heavy duty steel that is supported by a stress-relived frame that has been designed to handle extreme pressure. It features an easy blade gap adjustment and 17" rear-operated manual back gauge that is programmable. It produces digital readouts that supply numerical data to the operator.
The machine can be managed by a portable foot control that includes an emergency stop button. For specialized needs, this shear can be modified to your liking with optional accessories such as DT7 Touchscreen control, protractor for angle shearing, stroke counter, special blades and more. The mechanical plate shearing machine is an ideal choice for those looking to crunch down on production time, while retaining the highest level of performance in their cutting operations.
This machine satisfies a variety of specialized cutting needs, effectively holding its own in quality, accuracy and quickness. It is an excellent choice when processing fragile materials that require careful handling in addition to moderately thick sheets up to 12 gauge, it can manage material length from 4'-10'. Using the advantages of direct drive technology, it offers a seamless mechanism that is powered straight to the motor without reduction. The benefits include a longer life machine, better energy efficiency and fast, precise positioning. All-over steel construction and stress relieved frame gives you a durable machine that will deliver quality work for many years to come.
Contact with us now