MARINE & OFFSHORE EQUIPMENT
INDUSTRY EQUIPMENT
STOCK LIST
Steel Plate Shearing Machine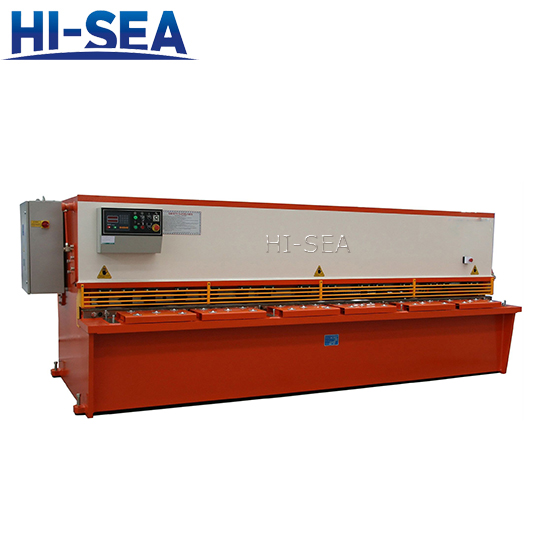 Steel Plate Shearing Machine
1. Steel Plate Shearing Machine Summary
This steel plate shearing machine has an 80" wide cutting capacity to accommodate most sheet metal applications and is the perfect metal shear for any fabrication shop looking to increase production. Using powerful industrial grade hydraulics controlled by a 220 volt three phase motor, this machine is capable of smoothly shearing through 10 gauge mild steel and 13 gauge stainless steel. It has the upper carriage built to minimize any deformation and the upper and lower blades have multiple shearing edges, both extend blade life.
Operator has the controls to jog the upper carriage, produce one cut with one foot pedal push, or remain in an auto mode by holding the foot pedal down. Hydraulic hold downs clamp the sheet solidly to the in feed table so the material doesn't lift when being sheared. This machine is built to withstand years of service in just about any environment, it is the perfect hydraulic shear for any fabrication shop.
2. Characteristics of Steel Plate Shearing Machine
(1) Rack, knife rack to eliminate stress, welding machine, durable;
(2) Advanced integrated hydraulic system reliability;
(3) Supported by three rolling guide to eliminate the bearing clearance, to ensure the quality of shear;
(4) Manual or electric blade gap adjustment, quick and accurate;
(5) Upper and lower blade edge with four, increase the use of time;
(6) Electric shear angle can be adjusted, reducing the shear deformation plate;
(7) Fixed-length cut with piecewise functions;
(8) Electric back gauge, digital display, accurate and reliable;
(9) Cut face, shear rate, shear thickness better than with the standard hydraulic shears.
3. Steel Plate Shearing Machine Specification
The technical parameter is optional, we can accommodate your requirements, please don't hesitate to contact us!
Back Gauge Length 24"
Shear Length 80"
Motor 5 hp
Strokes Per Minute 24
Capacity (Mild Steel) 10 ga. (.135")
Front Gauge Length 24"
Blade Angle 1°
Power 220V / 3-phase
Shipping Weight 4,000 lbs.
Minimum Material Thickness 24ga
Shipping Dimensions 104" x 36" x 53"
Contact with us now