Tube Bending Equipment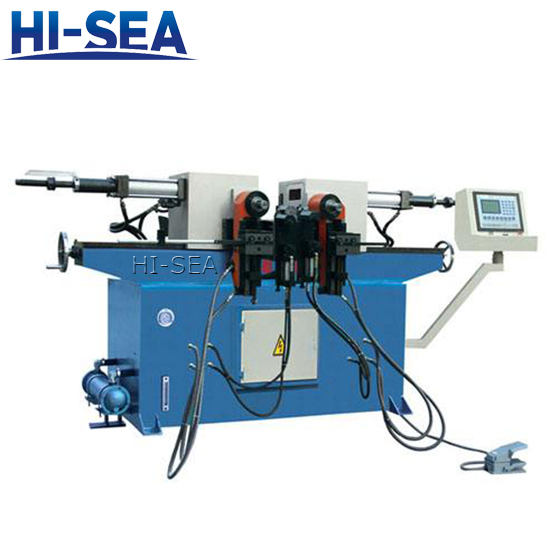 Tube Bending Equipment
1. Tube Bending Equipment Description
This tube bending equipment requires only 110-volt, single-phase power for easy plug-in almost anywhere. Handles a maximum capacity of 2.5" OD tubing, 2" OD Chromalloy, 2" square tubing, and 2" schedule 40 pipe. Maximum centerline of 8", depending on material's OD. Bends up to 200°, allowing for true 180° bends without having to re-pin the die set. Takes only 4 complete pushes to reach 180°. Built-in anti-spring back mechanism lets hydraulic cylinder retract without losing its place in the bend. Covered by a 1-year parts warranty. Comes with lifetime technical support from our knowledgeable team. Use this draw bender machine for: Economical one-off bending of hand railing and automobile chassis. This machine will increase your productivity.
2. Advantages of Tube Bending Equipment
Low-pressure industrial-grade hydraulics make bending quick, quiet, and safe, even at full capacity. Quick-release counter die positioner makes loading and unloading material more time-efficient. Accepts user-friendly drop-on tool sets from HI-SEA to increase the options for your applications. You can call in for support and advice on projects from our seasoned representatives throughout the machine's many years of productivity.
3. Specification of Tube Bending Equipment
The technical parameter is optional, we can accommodate your requirements, please don't hesitate to contact us!Minimum CLR .5"
Minimum OD .25"
Mild Steel Solid Rod 1.25"
Mild Steel Pipe Schedule 40 2"
Mild Steel Round Tube Wall 2.5" (.125)
Mild Steel Square Tube (Wall) 2" (.125)
Stainless Steel Pipe Schedule 40 1.5"
Stainless Steel Round Tube Wall 2.375" (.125)
Chromolly Round Tube Wall 2" (.125)
Aluminum Round Tube Wall 2.5" (.156)
Maximum Center Line Radius Clr 10.5"
Power 110V
Shipping Weight 546 lbs.
Shipping Dimensions 42" x 22" x 42"
Contact with us now