MARINE & OFFSHORE EQUIPMENT
INDUSTRY EQUIPMENT
STOCK LIST
Pipe Bending Equipment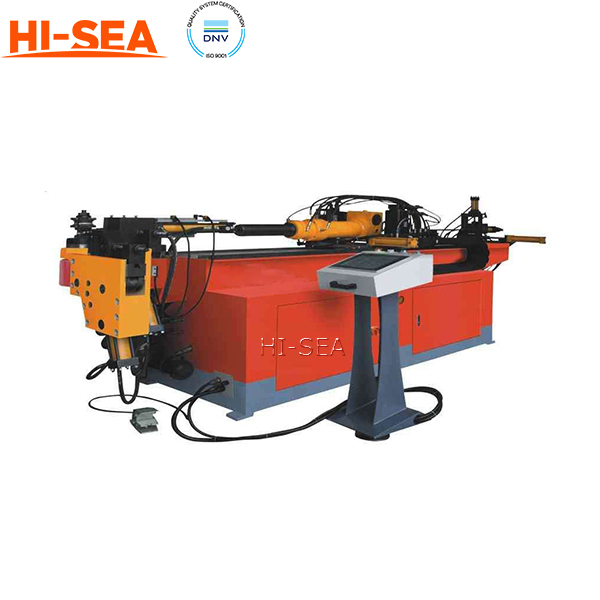 Pipe Bending Equipment
1. Pipe Bending Equipment Preface
This pipe bending equipment improves on the original with an added auto-stop feature, for even more exacting standards.
Powerful low-pressure hydraulic system operates on only 110 volts. Tackles a maximum capacity of 2" schedule 40 pipe and up to 2.5" tubing with a wall thickness of .120" mild steel. Executes consistent 180° bends in one fluid motion. Auto-stop programmer lets you set the desired bend angle for convenient precision and repeatability.
Quick-release counter die makes for fast loading and unloading. Easy-to-read degree indicator shows a bend's progress. Compact machine includes wheels on the base for convenient storage in small shops. Covered by a 1-year parts warranty. Includes lifetime technical support from our experienced team of representatives.
Use this machine for: creating custom chassis, handrails, boilers, and metal art, among other projects.
2. Pipe Bending Equipment Features
(1) It's the best buy in pipe bending equipment today, designed to make your fabrication shop more efficient.
(2) Comes standard with auto-stop to save time and cut down on errors.
(3) Limitless after-sale support and advice on projects are just a phone call away.
3. Technical Data of Pipe Bending Equipment
The technical parameter is optional, we can accommodate your requirements, please don't hesitate to contact us!
Minimum CLR .5"
Minimum OD .25"
Mild Steel Solid Rod 1.25"
Mild Steel Pipe Schedule 40 2"
Mild Steel Round Tube Wall 2.5" (.125)
Mild Steel Square Tube (Wall) 2" (.125)
Stainless Steel Pipe Schedule 40 1.5"
Stainless Steel Round Tube Wall 2.375" (.125)
Chromolly Round Tube Wall 2" (.125)
Aluminum Round Tube Wall 2.5" (.156)
Maximum Center Line Radius Clr *7 - 8"
Power 110V
Shipping Weight 640 Lbs
Shipping Dimensions 60" x 44" x 68"
Related products for "Pipe Bending Equipment"
Contact with us now