MARINE & OFFSHORE EQUIPMENT
INDUSTRY EQUIPMENT
STOCK LIST
Automatic Tube Bender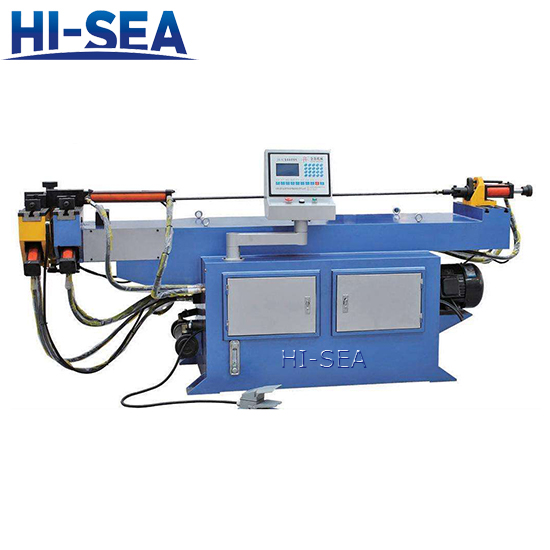 Automatic Tube Bender
1. Automatic Tube Bender Description
If you need to bend big pipe—and we mean really big pipe —then this is the automatic tube bender for you.
Industrial-grade, low-pressure hydraulic system runs on 220-volt 3-phase power. Handles a maximum capacity of 3" schedule 40 pipe, 3" square, and 3.5" round tube (.188 wall mild steel). Maximum centerline radius of 20", depending on wall thickness and material. Bends pipe up to 206° in a single shot, without stopping or ratcheting. Foot pedal allows you to control the bender at a variable speed. Digital auto-stop lets you specify the desired bend degree for ease and accuracy. Solid steel framework, weighing 1800 lbs., ensures durability and accuracy. Covered by a 1-year parts warranty and lifetime technical support.
Use this machine for: Military production, oil rigs, gas station bumpers, and other applications involving large-radius pipe.
2. Features of Automatic Tube Bender
(1) This automatic tube bender is made in China to the highest quality standards and best price.
(2) You can take on profitable military and industrial bending projects and know that your bender is up to the job.
(3) Includes accuracy-enhancing auto-stop, a feature that some companies consider an upgrade.
(4) Fast cycle time makes your shop more efficient.
(5) Easily accommodates 5,000+ drop-on tooling options. And if you don't see the tooling you need, we can customize it for you.
3. Automatic Tube Bender Technical Data
The technical parameter is optional, we can accommodate your requirements, please don't hesitate to contact us!
Minimum CLR .5"
Minimum OD .25"
Mild Steel Solid Rod 2"
Mild Steel Pipe Schedule 40 3"
Mild Steel Round Tube Wall 3" (.250)
Mild Steel Square Tube (Wall) 3" (.250)
Stainless Steel Pipe Schedule 40 2.5"
Stainless Steel Round Tube Wall 3.5" (.187)
Chromolly Round Tube Wall 3.5" (.187)
Aluminum Round Tube Wall 3.5" (.250)
Maximum Center Line Radius Clr 20"
Power 220V / 3-phase
Shipping Weight 1800 Lbs
Shipping Dimensions 70" x 56" x 41"
Contact with us now