MARINE & OFFSHORE EQUIPMENT
INDUSTRY EQUIPMENT
STOCK LIST
Manual Pipe Bending Equipment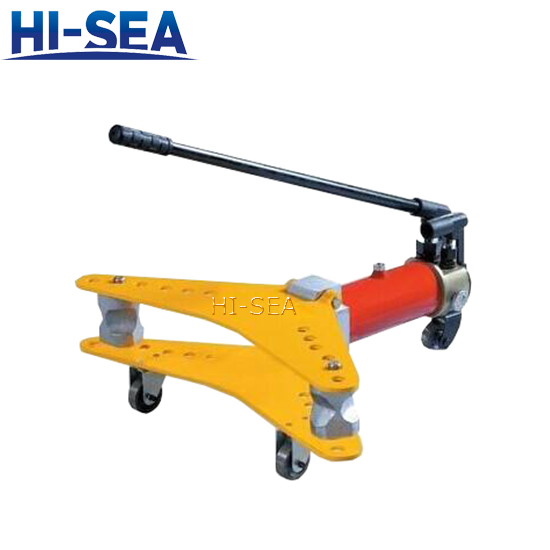 Manual Pipe Bending Equipment
1. Manual Pipe Bending Equipment Description
Need an affordable but powerful bender with enough capacity for almost about any chassis fabrication shop? This manual pipe bending equipment is revolutionary in function, capacity, and efficiency.
Tackles up to 2.5" OD mild steel with a wall thickness of .120" and 2" OD with a wall thickness of .120". Choose from 3 bending speeds, depending on material type, OD, and wall thickness, to proper speed for each application. Bends up to 200° in one shot without you needing to stop and reset the machine. Anti-springback mechanism holds each bend in place as the operator ratchets forward. No assembly or disassembly needed to produce a bend. All pivot points use aluminum bronze bushings and thrust washers for long machine life.
Quick-release hook arm inserts assist when you're changing over the machine to a different size of tubing. You can do a complete changeover in 1 minute or less. Just walk up to the machine, put your tubing into the hook arm insert, and begin bending. When the bend is complete, return the machine to the home position, pull your bend out—and you're all set. Comes complete with the stand, bend handle, and degree dial. Just add tooling and you're ready to bend tube.
2. Manual Pipe Bending Equipment Technical Data
The technical parameter is optional, we can accommodate your requirements, please don't hesitate to contact us!
Minimum CLR 3"
Minimum OD .75"
Mild Steel Solid Rod 1"
Mild Steel Pipe Schedule 40 Call for Details
Mild Steel Round Tube Wall 2.5" (.120)
Stainless Steel Pipe Schedule 40 Call for Details
Stainless Steel Round Tube Wall 2" (.120)
Chromolly Round Tube Wall 2" (.120)
Aluminum Pipe Sch. 40 Call for Details
Aluminum Round Tube Wall 2.5" (.120)
Max. Clr 7"
Power Manual
Shipping Weight 290 lbs.
Shipping Dimensions 44" x 27" x 42"

Contact with us now