MARINE & OFFSHORE EQUIPMENT
INDUSTRY EQUIPMENT
STOCK LIST
Pipe Bending Machine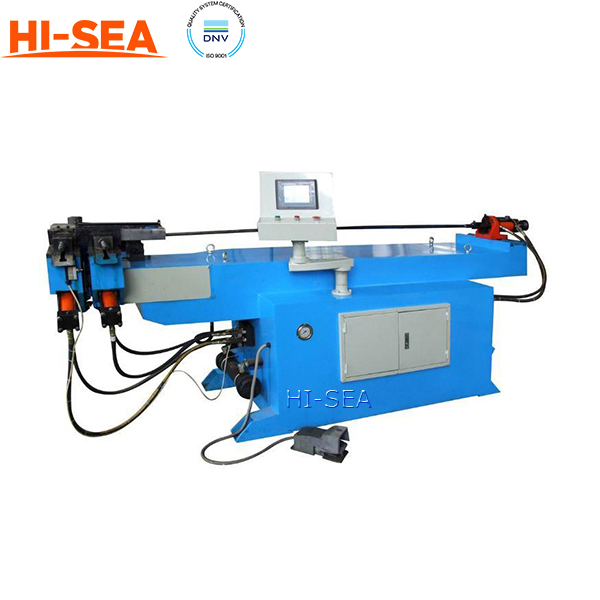 Pipe Bending Machine
1. Pipe Bending Machine Description
This compact, programmable pipe bending machine shapes material at blistering speeds with professional accuracy. Made in China, it will revolutionize the efficiency of your fabrication shop.
Runs on 220 volt single-phase power. Tackles heavy-duty materials, bending up to 2.5" tubing and 2" schedule 40 pipe. Rotary draw bender smoothly executes 180° bends in just 9 seconds and can complete up to 360°bends. Stores up to 170 programs of 10 bends each in its internal memory and accepts limitless external memory. Easy-to-use touchscreen or handy foot pedal can both operate the bender, when not in manual mode. 2-piece die mount loosens to release bent tubing without a hassle. Covered by a 1-year parts warranty and lifetime technical support.
Use this machine for: Creating custom chassis, handrails, boilers, and metal art, among other projects.
2. Pipe Bending Machine Advantages
(1) Fast, Accurate Tube Bending at an Unbeatable Price.
(2) Quick Automation and Quality Results for High-End Fabrication.
(3) Unrivaled Accuracy at Blindingly-Fast Speeds.
3. Pipe Bending Machine Specification
The technical parameter is optional, we can accommodate your requirements, please don't hesitate to contact us!
Minimum CLR .5"
Minimum OD .25"
Mild Steel Solid Rod 1.25"
Mild Steel Pipe Schedule 40 2"
Mild Steel Round Tube Wall 2.5" (.125)
Mild Steel Square Tube (Wall) 2" (.125)
Stainless Steel Pipe Schedule 40 1.5"
Stainless Steel Round Tube Wall 2.375" (.125)
Chromolly Round Tube Wall 2" (.125)
Aluminum Round Tube Wall 2.5" (.156)
Maximum Center Line Radius Clr 9"
Power 220V Single Phase
Shipping Weight 610 Lbs
Shipping Dimensions 60" x 44" x 68"
Related products for "Pipe Bending Machine"
Contact with us now