MARINE & OFFSHORE EQUIPMENT
INDUSTRY EQUIPMENT
STOCK LIST
Semi-Automatic Pipe Bending Machine
Semi-Automatic Pipe Bending Machine
1. Semi-Automatic Pipe Bending Machine Description
This semi-automatic pipe bending machine improves on our breakthrough with patented additional features to streamline your bending jobs.
Maximum capacity of 2" schedule 40 pipe and up to 2.5" tubing with a wall thickness of .120" mild steel. Rotary draw executes 180° bends in a smooth single motion. Making quick work of round tube, pipe, and square tubing. Auto-stop programming lets you achieve the desired bend angle without worrying about accuracy. Easy-to-read digital degree indicator to monitor bend progress and check angles. Convenient foot pedal controls the movements of the bender, leaving your hands free to guide the material. Works with up to a 9'' centerline radius to accommodate 90% of applications.
Ratcheting counter die adjustment allows for quick tooling changes. No valves on top, leaving plenty of open space for complex bends. Backed by a 1-year parts warranty and lifetime technical support.
Use this machine for: creating custom chassis, handrails, boilers, and metal art, among other projects.
2. Advantages of Semi-Automatic Pipe Bending Machine
(1) Improved-accuracy digital readout package measures bend angle on the die head or spindle instead of cylinder placement to get a true reading.
(2) You can count on the extreme speed and reliability of this machine to eliminate delays.
(3) Limitless after-sale support from HI-SEA representatives with hands-on experience is just a phone call away.
3. Semi-Automatic Pipe Bending Machine Specification
The technical parameter is optional, we can accommodate your requirements, please don't hesitate to contact us!
Minimum CLR .5"
Minimum OD .25"
Mild Steel Solid Rod 1.25"
Mild Steel Pipe Schedule 40 2"
Mild Steel Round Tube Wall 2.5" (.125)
Mild Steel Square Tube (Wall) 2" (.125)
Stainless Steel Pipe Schedule 40 1.5"
Stainless Steel Round Tube Wall 2.375" (.125)
Chromolly Round Tube Wall 2" (.125)
Aluminum Round Tube Wall 2.5" (.156)
Maximum Center Line Radius Clr 9"
Power 110V
Shipping Weight 700 lbs.
Shipping Dimensions 60" x 44" x 77"
4. Workshop of Semi-Automatic Pipe Bending Machine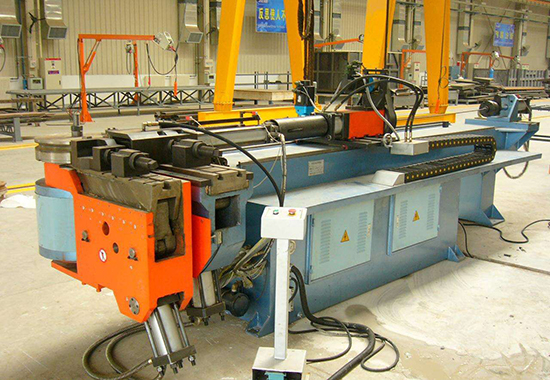 Contact with us now