MARINE & OFFSHORE EQUIPMENT
INDUSTRY EQUIPMENT
STOCK LIST
Manual Tube Bending Machine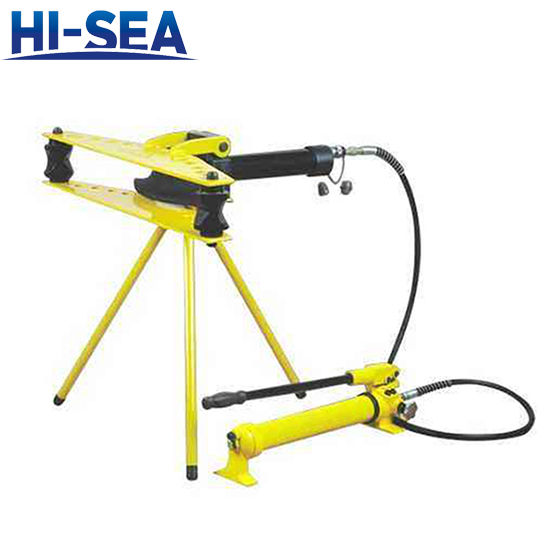 Manual Tube Bending Machine
1. Manual Tube Bending Machine Overview
For the fabricator who needs to bend lower production runs, this manual tube bending machine maintains a high standard of professional-looking bends.
Bends up to 1.75" OD tubing with a maximum wall thickness of .095" and 1" schedule 40 pipe. Large-diameter indexing allows you to bend up to 206° (180° plus spring-back) without having to re-index and re-pin—unlike most other manual tube benders on the market. Quick-release counter die system lets you easily load and unload the material. Tension springback mechanism holds position as the bend mechanism grabs the next tooth on the index wheel. Degree scale displays your bend angle for fast reference. All tooling has a start-of-bend indicator line so you can make complex bends with accuracy and confidence. Ratcheting bend system lets you conveniently shift to manual override for lighter-gauge materials. Ships mostly pre-assembled, simply attach the handle and stand.
Accepts hundreds of round and square tubing die sets as well as round pipe die sets. Includes stand, degree dial, and handle.
2. Specification of Manual Tube Bending Machine
The technical parameter is optional, we can accommodate your requirements, please don't hesitate to contact us!
Minimum CLR .5"
Minimum OD .25"
Mild Steel Solid Rod 1"
Mild Steel Pipe Schedule 40 1"
Mild Steel Round Tube Wall 1.75" (.083)
Mild Steel Square Tube (Wall) 1" (.125)
Stainless Steel Pipe Schedule 40 .75"
Stainless Steel Round Tube Wall 1.5" (.083)
Chromolly Round Tube Wall 1.5" (.083)
Aluminum Round Tube Wall 2" (.125)
Maximum Center Line Radius Clr 10.5"
Power Manual
Shipping Weight 410 Lbs
Shipping Dimensions 42" x 22" 42"
Contact with us now