Hydraulic Plate Shearing Machine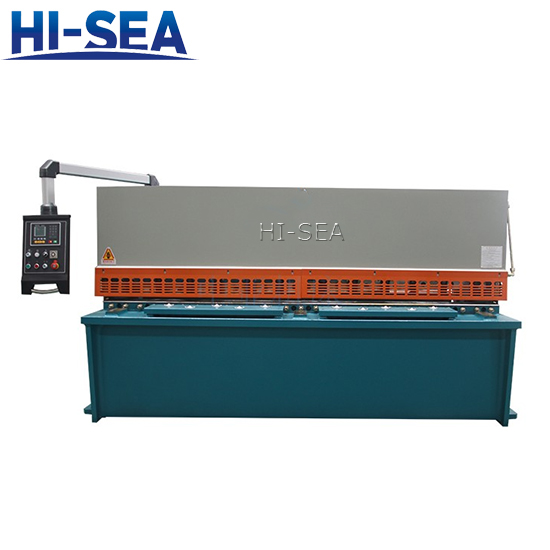 Hydraulic Plate Shearing Machine
1. Hydraulic Plate Shearing Machine Description
The hydraulic plate Shearing machine features quick and easy setup, accurate parts production, reliability, and low maintenance. Designed for safe operation, the shears are built to go the distance. From the heavy duty cast iron base to the world renowned hydraulic components, these hydraulic shears will certainly increase your production. From one quarter inch thick material to one-inch-thick plate the hydraulic shears have become the backbone of small to large companies all across the manufacturing spectrum. With safety being first and foremost, our new shears incorporate all of the most current safety designs available today.
Shear operators need protection, our shears come standard with full length finger guards, ball transfer tables for easy positioning of the sheet to be blanked, light curtain safety system at the cut of the blade. If that wasn't enough, fully automatic sheet hold downs are placed close together and extend the entire length of the blade. For accurately cut parts high quality controls are a must. We offers premier controllers ranging from C-N-C touch screens to easy to use and understand manual controls. Need longer back gauges, thin sheet capability, specially designed safety systems we have done them all. If your companies need is to increase the production of your accurately cut blanks, your search is over, you need look no further, your journey is at an end.
2. Hydraulic Plate Shearing Machine Features
(1) The main machine adopts the structure of series QC12Y hydraulic swing.
(2) NC system choose famous at home and abroad special plate shears CNC system.
(3) The motor of backgauge can be equipped with importing AC servo motor.
(4) The drive element of backgauge adopts importing ball screw and linear guideway.
(5) According to the needs of user matching CNC system.
3. Technical Data of Hydraulic Plate Shearing Machine
The technical parameter is optional, we can accommodate your requirements, please don't hesitate to contact us!
Model

Shearing Thickness

Shearing Width

Shearing Angle

Number of Stroke

Backgauge Rang

Motor Power

Size

mm

mm

°

min-1

mm

KW

mm

QC12Y-4*3200

4

3200

1°30′

18

20~600

5.5

3840*1675*1600

QC12Y-6*2500

6

2500

1°30′

18

20~600

7.5

3130*1530*1600

QC12Y-6*3200

6

3200

1°30′

14

20~600

7.5

3840*1675*1620

QC12Y-6*4000

6

4000

,1°30′

14

20~600

7.5

4630*1850*1700

QC12Y-6*5000

6

5000

1°30′

10

20~800

18.5

5660*2050*1950

QC12Y-6*6000

6

6000

1°30′

10

20~800

18.5

6700*2300*2300

QC12Y-8*2500

8

2500

1°30′

14

20~600

11

3130*1530*1600

QC12Y-8*3200

8

3200

1°30′

10

20~600

11

3840*1675*1620

QC12Y-8*4000

8

4000

1°30′

8

20~600

11

3840*1850*1700

QC12Y-8*5000

8

5000

1°30′

7

20~800

18.5

4630*2050*1950

QC12Y-8*6000

8

6000

1°30′

6

20~800

18.5

6750*2330*2230

QC12Y-10*2500

10

2500

1°30′

14

20~800

15

3130*1580*1800

QC12Y-10*3200

10

3200

1°30′

12

20~800

15

3840*1725*1850

QC12Y-10*4000

10

4000

1°30′

12

20~800

15

4630*1900*1850

QC12Y-12*2500

12

2500

1°30′

16

20~800

18.5

3235*2045*1850

QC12Y-12*3200

12

3200

1°30′

14

20~800

18.5

3945*2227*1935

QC12Y-12*5000

12

4000

1°30′

14

20~800

18.5

4695*2227*2115

QC12Y-12*5000

12

5000

1°30′

7

20~1000

45

6100*3370*2200

QC12Y-12*6000

12

6000

1°30′

6

20~1000

45

7100*3370*3050

QC12Y-12*8000

12

8000

1°30′

5

20~1000

45

9100*3575*3050

QC12Y-16*2500

16

2500

2°

16

20~650

18.5

3235*2050*3150

QC12Y-16*3200

16

3200

2°

12

20~800

22

3950*2230*1985

QC12Y-16*4000

16

4000

2°

10

20~800

22

4700*2230*2250

QC12Y-20*2500

20

2500

2°30′

5

20~1000

37

3290*2900*2250

QC12Y-20*3200

20

3200

2°30′

4

20~1000

37

4000*3100*2450

QC12Y-20*4000

20

4000

2°30′

3

20~1000

37

4750*3300*2600

QC12Y-20*6000

20

6000

2°30′

3

20~1000

75

7050*3480*2800

QC12Y-25*2500

25

2500

2°30′

6

20~1000

45

3500*3150*3050

QC12Y-25*3200

25

3200

2°30′

5

20~1000

45

4200*3150*3500

QC12Y-25*4000

25

4000

2°30′

5

20~1000

45

4850*3300*3500

QC12Y-32*2500

32

2500

3°

5

20~1000

55

3500*3150*3500

QC12Y-32*3200

32

3200

3°

4

20~1000

55

4200*3150*3500

QC12Y-40*2500

40

2500

4°

5

20~1000

75

3600*3300*3200

QC12Y-40*3200

40

3200

4°

3

20~1000

90

4300*3300*3400

QC12Y-50*3000

50

3000

3°

5




90*3

4040*3600*4800

QC12Y-50*6000

50

6000

3°

5




90*5

7040*2800*5100

QC12Y-60*3500

60

3500

3°30′

5




90*4



Contact with us now