SCR manual arc welding machine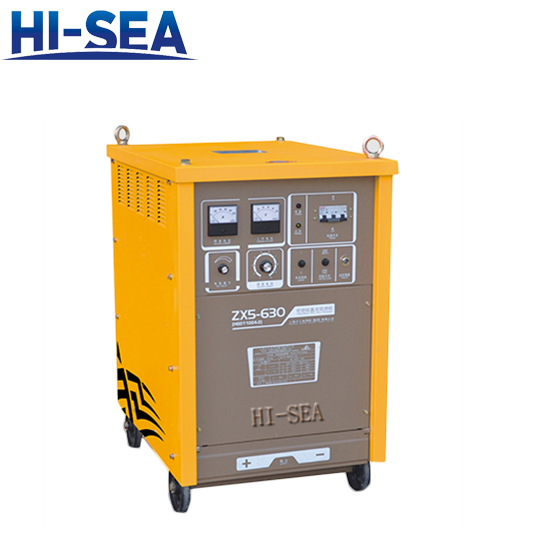 SCR Manual Arc Welding Machine
Product description:
1. It adopts SCR technology, with grid voltage fluctuation compensation function, which makes current stable, arc soft and splash small.
2. With arc thrust adjustment function, it has a good arc-ignition.
3. It is suitable for acid and alkaline electrode welding, and the carbon arc gouging can be done for models above 500A.
4. With remote control function, equipped with remote control box, it can adjust welding current from a long distance.
5. Applied to industry, heavy industry
Technical parameters:
| | | | | |
| --- | --- | --- | --- | --- |
| Type | ZX5-400 | ZX5-500 | ZX5-630 | ZX5-630A(strengthening) |
| Input voltage(V) | 380 | 380 | 380 | 380 |
| Rated input capacity(KVA) | 34 | 42 | 56 | 56 |
| Output no-load voltage (V) | 70 | 72 | 75 | 75 |
| Current adjustment range (A) | 50-400 | 60 -500 | 120-630 | 80-630 |
| 40℃ 60% Load duration output current (A) | 400 | 500 | 630 | 630 |
| 40℃ 100% Load duration output current (A) | 310 | 387 | 488 | 488 |
| net weight (kg) | 130 | 135 | 203 | 243 |
| Dimensions:L x W x H(mm) | 705x420x790 | 705x420x790 | 890x660x1040 | 890x660x1040 |
| Welding rod diameter (mm) | 2.5-7 | 2.5-8 | 2.5-8 | 2.5-8 |
| Carbon rod diameter (mm) | ---- | ---- | ---- | 10 |
Contact with us now