MARINE & OFFSHORE EQUIPMENT
INDUSTRY EQUIPMENT
STOCK LIST
AC-DC Manual Arc Welding Machine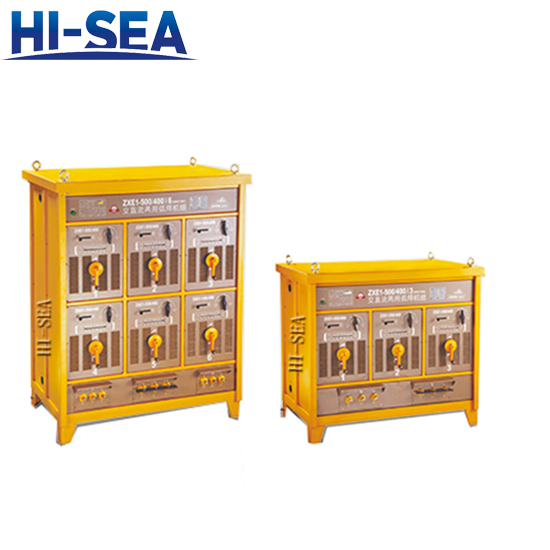 AC-DC Manual Arc Welding Machine
Product description:
1. The unit consists of 3-6 independent ZXE1 series AC and DC arc welding machines, which can simultaneously supply more than 1-6 people for standard welding operations.
2. Each ZXE1 series AC and DC arc welding machine is composed of a moving iron core arc welding transformer, a rectifying component and a filter reactor. DC arc welding or AC arc welding can be selected according to the welding specification.
3. A special synthetic graphite pad is used between the moving iron core and the guide rail, which has low working noise, maintenance-free, no oiling, and durable wear.
Application:
1. Appropriate for alkaline and acidic coating electrodes
2. Suitable for shipbuilding, steel structure processing, where multiple stations and multiple specifications are required for simultaneous operation.
Technical parameters:
| | | |
| --- | --- | --- |
| Type | ZXE1-500/400x3 | ZXE1-500/400x6 |
| Input voltage(V) | 380 | 380 |
| Rated input capacity(kVA) | 128 | 128 |
| Single current adjustment range (A) | 100x495/80-395 | 100x495/80-395 |
| 40℃ 60% Load duration output current (A) | AC495/DC395 | AC495/DC395 |
| 40℃ 80% Load duration output current (A) | AC433/DC346 | AC433/DC346 |
| 40℃ 100% Load duration output current (A) | AC387/DC310 | AC387/DC310 |
| Welding rod diameter (mm) | 3.2-6 | 3.2-6 |
| Net weight | 752 | 752 |
| Dimensions:Lx w x H(mm) | 1600x1000x1450 | 1600x1000x1450 |
Contact with us now