MARINE & OFFSHORE EQUIPMENT
INDUSTRY EQUIPMENT
STOCK LIST
Portable CNC flame cutting machine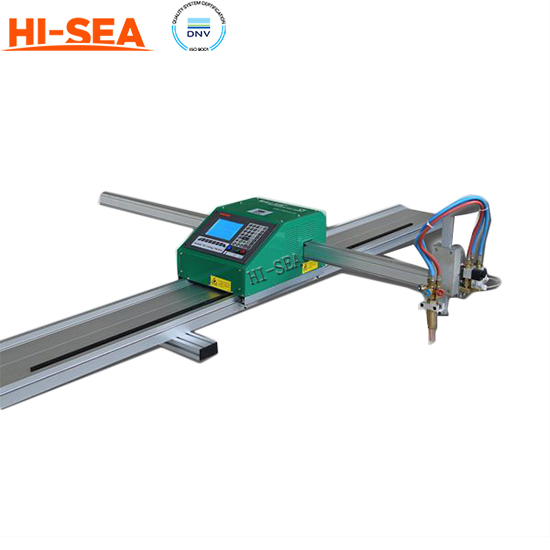 Portable CNC flame cutting machine
Product Description:
The portable CNC flame cutting machine is a cantilever structure and can be equipped with plasma cutting. It is a high-efficiency and energy-saving cutting equipment. Light weight and economy are big advantages of it.
Main features:
1. Small size, anti-interference: suitable for small and medium-sized enterprises, which can improve production efficiency and material utilization, and reduce production costs.
2. Simple programming nesting
3. convenient and flexible file transfer and storage
4. Simple and convenient operation: it can be manually cut like a semi-automatic car during operation, or it can be automatically cut like a large CNC.
Application:
1. Be widely used in automotive, shipbuilding, petrochemical, boiler pressure vessels, engineering machinery,light industrial machinery and other industries.
2. Suitable for cutting of carbon steel, stainless steel, aluminum, copper and other metal plates
3. Especially suitable for single-piece and mass production of profiled surfaces.
Effective cutting range

(WxL)(mm)

1200x2000

1500x3000

1500x5500

Input voltage (V)

220V

220V

220V

frequency

50H

50H

50H

power

180W

180W

180W

Display size

LCD7

LCD7

LCD7

Flame cutting speed(mm/min)

6-750

6-750

6-750

Beam length(mm/min)

1700

2200

2200

Longitudinal guide length(mm)

2500

3500

6000

cutting method

Flame

Flame

Flame

Optional gas

Acetylene, propane,gas

Acetylene, propane, gas

Acetylene, propane, gas
Related products for "Portable CNC flame cutting machine"
Contact with us now