MARINE & OFFSHORE EQUIPMENT
INDUSTRY EQUIPMENT
STOCK LIST
Pneumatic Rubber Fender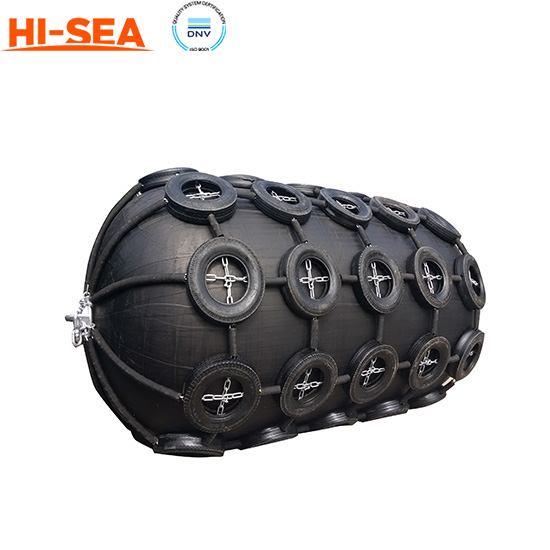 Pneumatic Rubber Fender
Description:
A pneumatic rubber fender is a type of marine fender designed to provide cushioning and protection to vessels during berthing and docking operations. It is constructed using layers of rubber and reinforced with a synthetic tire cord material. The fender is then filled with compressed air, giving it its characteristic pneumatic properties.
The pneumatic rubber fender is typically cylindrical in shape and has a central rubber body with two end flanges. The rubber body absorbs the impact energy from a ship or vessel during contact, reducing the risk of damage to both the vessel and the dock or other structures. The compressed air inside the fender acts as a cushion, distributing the impact force evenly and preventing excessive stress on the vessel and the fender itself.
One of the advantages of pneumatic rubber fenders is their ability to provide high energy absorption with relatively low reaction force. This makes them suitable for a wide range of vessel sizes and types, from small boats to large ships. The fenders are also highly durable and resistant to harsh marine conditions, such as waves, tides, and corrosive elements.
Pneumatic rubber fenders are commonly used in ports, harbors, and offshore applications where vessel berthing and mooring occur. They are effective in preventing damage to ships, piers, and other structures, thereby ensuring safe and efficient maritime operations. The fenders are designed to withstand repeated impact and compression, making them a reliable choice for long-term use.
Drawing and Specification of Pneumatic Rubber Fender: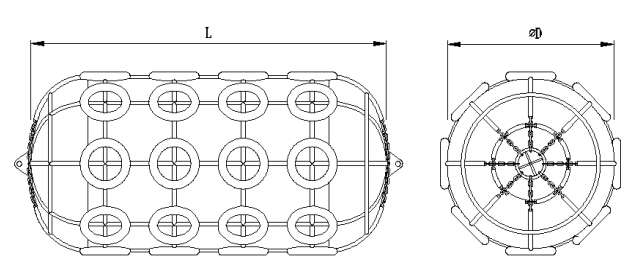 No.

Pneumatic Rubber Fender Size

(Diameter*Length)

Initial

pressure

Compression ratio 60%

Max.internal pressure

Testing pressure

Reaction

Absorption

mm*mm

MPa

KN

KJ

MPa

MPa

1

1000*1500

0.05

182

32

0.16

0.28

2

1200*2000

0.05

297

63

0.16

0.26

3

1500*3000

0.05

579

153

0.15

0.25

4

2000*3500

0.05

875

308

0.15

0.25

5

2500*4000

0.05

1381

663

0.14

0.25

6

3000*5000

0.05

2000

1050

0.14

0.24

7

3000*6000

0.05

2488

1312

0.13

0.24
Performance Curve of Pneumatic Rubber Fender: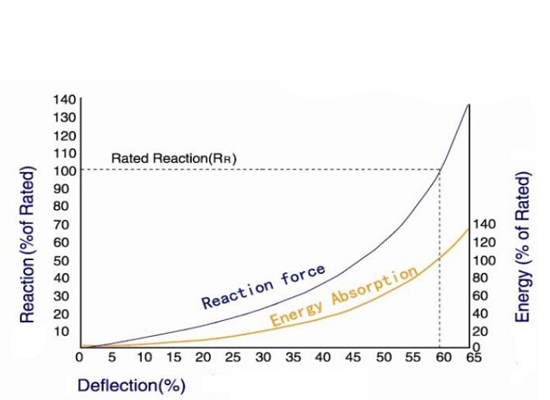 Application:
Pneumatic rubber fender is the leading anti-collision device for marine application in the world. This compressed air filled rubber fender is used as a protective medium for ship-to-ship contact (STS)., ship to quay (STQ) and ship-to-berthing (STB).

Features:
1. Pneumatic rubber fender make use of inside condensed air as buffer medium, absorb ship attack energy, good resilience, large energy absorb, low reaction force, little surface pressure.
2. Slant compression performance doesn't lowing down.
3. Good floating performance doesn't effect by tide scope, fender can be kept at an ideal waterline.
4. Installation and taking convenient, it widely used all kinds of vessel, barge, large scale dock and dock with large tide scope.
Pneumatic Rubber Fender Ready to Shipment: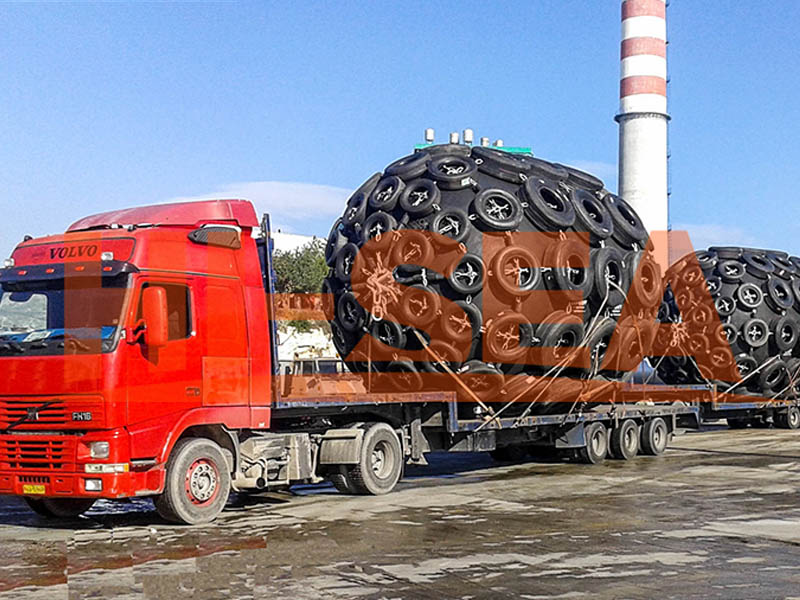 Related products for "Pneumatic Rubber Fender"
Contact with us now