MARINE & OFFSHORE EQUIPMENT
INDUSTRY EQUIPMENT
STOCK LIST
Plate Cutting Machine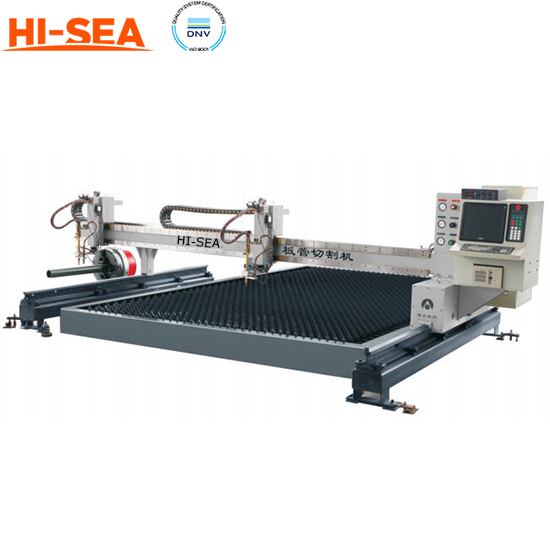 Plate Cutting Machine
1. Application
Plate Cutting machine is mainly used for planar plate and round tube cutting.Through the control of numerical control system, the function of line cutting is extended on the base of plane cutting. Equipped with flame, plasma can be easily cut carbon steel, stainless steel, etc. The machine body is gantry style cutting machine which can finish the flat shape cutting independently. The cutting head can finish the various kinds of shape cutting for round pipe when doing synchronous linkage drive with rotation axis.

2. Features
It has follow features: easy installation for whole machine, stable running, easy operation, high level of automation, high cutting precision, quick speed, good effect and so on.

- Distance of track (mm): 3500
- Effective cutting width (mm): 2000
- Track length (mm): 9000
- Effective cutting length (mm): 6000
- Elevation stroke of cutting torch (mm): 200
- Cutting mode: Oxygen-propane/plasma
- Cutting thickness: Flame: 6~200mm; Plasma: 3~20mm
- Dimension (L x W x H): 9000×4350×2000(mm)
- Cutting speed (MAX): ≤6000mm/min
- Travel speed (MAX): ≤12000mm/min
- Power supply: NC: AC220V±5% 2P 50Hz; Plasma 3P 380V
- Power: NC: about 3KW; Plasma 22KW
- Gas source: Oxygen 1.0-1.2MPa; Propane 0.1MPa

Related products for "Plate Cutting Machine"
Contact with us now