MARINE & OFFSHORE EQUIPMENT
INDUSTRY EQUIPMENT
STOCK LIST
NBM-500A Inverter Gas Shielded Welding Machine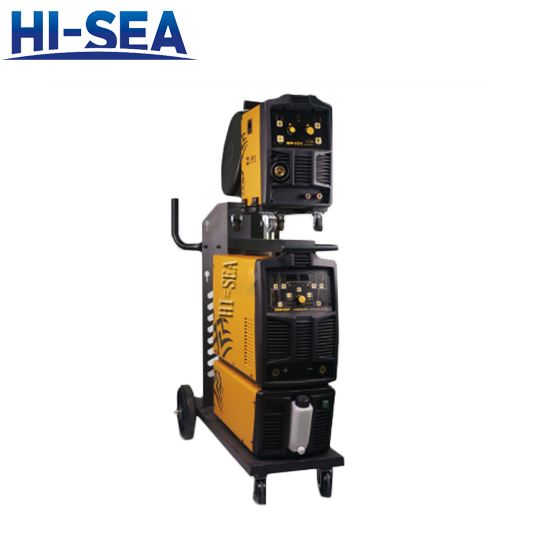 NBM-500A Inverter Gas Shielded Welding Machine
Product description:
1. Movable multi-function gas shielded welding, four-wheel movement, convenient for long-distance movement.
2. Reserved robot interface, real-time feedback welder parameters.
3. The group control function realizes the real-time monitoring of all the data of all welders in the network through the application of remote welding technology.
4. Low splash, small welding splash.
Application:
1. NBM-500Ais suitable for a variety of welding operations in industrial and heavy industries, especially for aluminum welding operations.
2. NBM-500Ainverter gas shielded welding can be welded with carbon steel, stainless steel, aluminum- magnesium, aluminum-silicon and copper alloy with a diameter of 0.8-1.6mm, especially suitable for welding aluminum plates.
Function:
1. Single pulse gas shielded welding
2. Double pulse gas shielded welding
3. Short circuit transition gas shielded welding
Technical parameters:
| | |
| --- | --- |
| Type | NBM-500A |
| Input voltage(V) | 3PH-380 |
| Rated input capacity(kVA) | 27.5 |
| Output no-load voltage(V) | 76 |
| Current adjustment range(A) | 20-500 |
| Load duration output current (A) | 60%/40% |
| Net weight (kg) | 50 |
| Dimensions:L x W x H(mm) | 639x289x440 |
Contact with us now