MARINE & OFFSHORE EQUIPMENT
INDUSTRY EQUIPMENT
STOCK LIST
Single Axis Pipe Bending Machine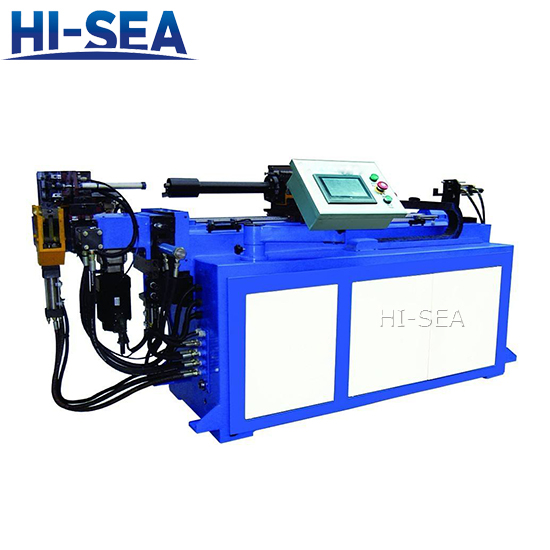 Single Axis Pipe Bending Machine
1. Single Axis Pipe Bending Machine Description
This single axis pipe bending machine runs on just 110 volts of power and will work at most fabrication sites. Rotary draw powered by low-pressure, industrial-grade hydraulic system. 8" centerline radius maximum, depending on the outside diameter of the material. Bends with a capacity of 2" schedule 40 pipe and up to 2.5" tubing with a wall thickness of .120" mild steel. Easy-to-read degree indicator and adjustable stop to help you achieve correct bend degrees. Quick-release counter die system for hassle-free loading and unloading. Includes wheels on the base for smooth movement, helpful for storage in small shops. Covered by a 1-year parts warranty and lifetime technical support.
2. Features of Single Axis Pipe Bending Machine
(1) Our original, much-imitated twin-cylinder design remains unequaled.
(2) Small to medium sized fabrication shops will save time and money by investing in this hydraulic bender.
(3) Accepts simple-to-add drop-on tooling from HI-SEA Marine—including custom sets on request—giving you thousands of possibilities.
(4) Our limitless after-sale support means that free advice on projects and applications is always just a call away.
3. Single Axis Pipe Bending Machine Specification
The technical parameter is optional, we can accommodate your requirements, please don't hesitate to contact us!
Minimum CLR .5"
Minimum OD .25"
Mild Steel Solid Rod 1.25"
Mild Steel Pipe Schedule 40 2"
Mild Steel Round Tube Wall 2.5" (.125)
Mild Steel Square Tube (Wall) 2" (.125)
Stainless Steel Pipe Schedule 40 1.5"
Stainless Steel Round Tube Wall 2.375" (.125)
Chromolly Round Tube Wall 2" (.125)
Aluminum Round Tube Wall 2.5" (.156)
Maximum Center Line Radius Clr 9.5"
Power 110V
Shipping Weight 600 Lbs
Shipping Dimensions 60 x 44 x 68
Contact with us now