Servo Hydraulic Press Brake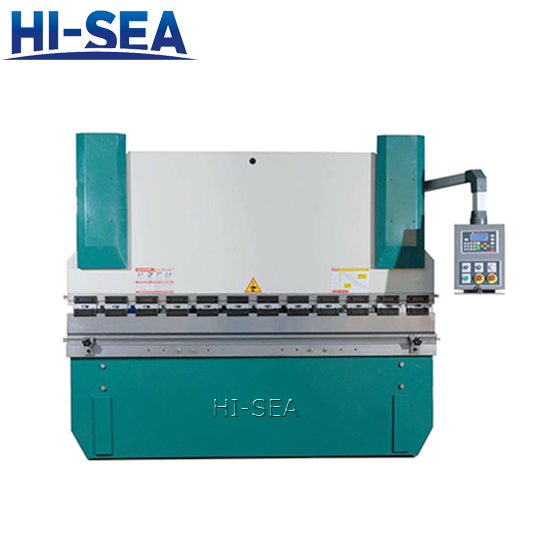 Servo Hydraulic Press Brake
1. Description of Servo Hydraulic Press Brake
Our servo hydraulic press brake can be configured as a tandem machine combined to create a longer bending length, a trio machine combination or even a quad machine configuration for greatly extended bending lengths, representing the latest technology in press brake automation. Powerful, easy-to-use CNC touch screen control with 3D graphical visualization. The large openings and strokes facilitate the versatile production of complex large parts requiring increased clearance, such as the production of deep sectioned four sided boxes. This provides for more clearance when bending parts with larger flanges. In some cases this allows the buyer to purchase a shorter press brake. The wide space can also reduce cycle times, the application of highly dynamic hydraulic servo valves controlling all major components of the press brake contribute to faster machine movement while drastically reducing cycle times and improving through put production. Long double guides in combination with well-designed cylinder construction make a large and flexible beam opening possible.
Stable and fast AC Servo motor driven back gauge system increases part production because of the greatly enhanced high speed positioning of the sheet. The back gauge on this CNC machine is a precision component all on its own. Utilizing an inverter controlled direct drive servo driven lead screw and motor, the back gauge is as accurate as it is fast. Using very heavy duty channel and tube construction, the entire component is all steel and designed to go the distance.
The durability of the back end of the press doesn't stop there, extra heavy duty linear guide anchors the back gauge fingers solidly while still providing fingertip movement when adjustment is needed. These same back gauge fingers are also height adjustable. Standard X-axis travel is 25.6" with third gauge step capable of gauging parts up to 39" with standard back gauge. With the X/R style back gauge, the height of the back gauge is programmable in addition to the depth. This is very useful for changes in die height, extreme crowning settings, and for gauging to a flange that may be a different height than the die. Retraction is also a standard feature that helps improve the accuracy of the produced Part.
2. Crowning System of Servo Hydraulic Press Brake
CNC crowning ensures a constant bend angle across the full length of the machine. This is achieved by pre loading the machine, to offset any possible deflection under load or compensate for any tool wear, so that under load contacting surfaces are parallel to each other.
With CNC crowning systems the press brake control is preprogrammed with machine characteristics and deflection data.
3. Back Gauge System of Servo Hydraulic Press Brake
The correct back gauge for the application can have a substantial positive influence on production part volume and accuracy. The more intricate the parts, typically the more axes on the back gauge you should have. Volume of parts needs to be considered also. A smart, experienced brake press operator can bend, form and produce some very intricate parts without even a single axis back gauge. However, the more time it takes to form the correct part, the more costs you have in the part. So the best scenario would be to have an experienced operator with the correct back gauge system that will magnify their skills. But in today's market, smart, experienced Press Brake operators are getting hard to find. So the correct back gauge for the application will decrease costs per part by helping to make a good press operator, a great one. The less experience an operator is the more axes you should have. Also, experienced operators know the benefit of correct back gauge for applications.
Contact with us now