MARINE & OFFSHORE EQUIPMENT
INDUSTRY EQUIPMENT
STOCK LIST
Sand Blast Room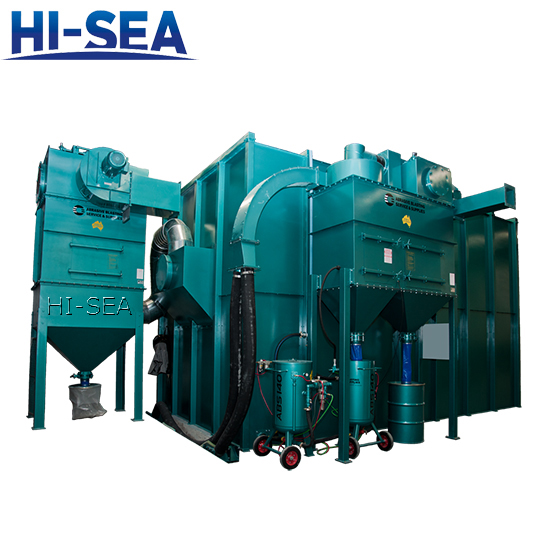 Sand Blast Room
1. Sand Blast Room Working principle
Though cellular suck sand floors technical, pneumatic conveying principles and it generates negative pressure by vacuum pump to recover sand, then the sand is separated automatically from dust by separator unit built inside the equipment. The separated sand will be to the sand pressure tank again. The separated crushing sand, welding slag, scale cinder, stive will be to dust pelletizing system to filter. Meanwhile, there configured efficient cartridge filter for workers can see clearly. The stive will be inhaled out and then to filter.
2. Characteristics of Sand Blast Room
(1) A simplified design combining Down Draught ventilation and pneumatic conveying in the same movement;
(2) No mechanical moving parts means less costly maintenance and breakdowns;
(3) Fully adjustable air wash reclaimers remove the dust and contaminants from the spent abrasive returning only good, clean abrasive to the storage hopper;
(4) Clear visibility for the operator's comfort and effectiveness in sighting the sand blast target;
(5) The triangulated construction of the module makes it extremely strong. Allowing trolley tracks and bogies etc. to operate directly on top of the modules;
(6) All types of abrasives can be used including metallic grits, garnet, glass bead, aluminium oxide and plastic.
3. Sand Blast Room Technical Parameter
The technical parameter is optional, we can accommodate your requirements, please don't hesitate to contact us!

Item

Technical Standard

Size of the Sand Blast Room(mm)

8000(L)*2200(W)* 2500(H)

The Structure of the Sand Blast Room

Material:

A. Body: Rectagular Steel Tube (80*40*2.5M)

B. Wall: Fire insulation sandwich panel (50mm *16k*0.476)

C. Protection: Wearable rubber sheet (3mm)

Door Size (mm)

2000(W)*2200(H)
4.
Sand Blast Room
Process Flow

5. Sand Blast Room Diagrammatic Drawing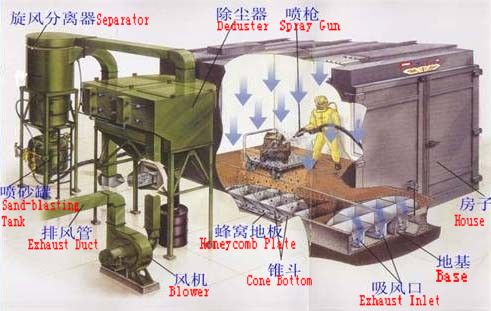 Related products for "Sand Blast Room"
Contact with us now