Plate Bending Machine Manufacturer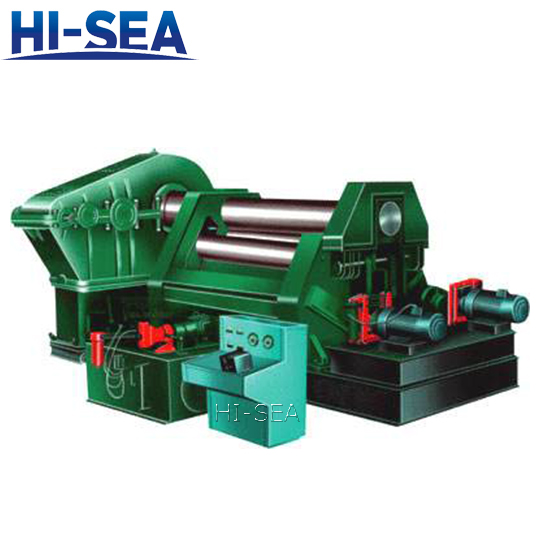 Plate Bending Machine Manufacturer
1. Summary of Plate Bending Machine Manufacturer
HI-SEA Marine has provided high quality plate bending machine for years, with abundant experience.This device can pre-bend the ends of plate, feed steel plate just one time, and then to pre-bend the ends of plate, roll the workspace to drums shape, don't need to return. The working up roller is the main drive roller, the down rollers and side roller use hydraulic drive to do elevate movement. And move controlled by computer, horizontal adjust automatic, show by screen, the synchromesh accuracy attached ±0.2mm. Turnover and resume of flip-bearing used hydraulic to drive. Installed balance system on the ends of up roller, so it's easy to unload work piece. Adopt mobile independence operator table, so can operator at any time and any place, the machine has safety interlock device. For a world it has high technology, overall function, high accuracy and easy to operator. So it's the model rolling machine, it's the first choice in energy, transport, fossil oil, chemical, shipbuilding, steel and some other industries. Certificates of plate bending machine: CE and ISO are approvable.
This machine composed of four working rollers, left and right rack of machine, base board, rolling rhombus tube function, turnover part, device part, sensor part, hydraulic system, electrical system and so on.
2. Plate Bending Machine Characteristics
(1) The Hydraulic pipe joint all use new technologies which used in the metallurgical and mining equipment joint fast, reliable connection to the radial seal to ensure that the equipment in the hydraulic system does not work in oil. Hydraulic suction system has oil back and oil filter to ensure the system clean, and has air filter to ensure the fuel tank normal respiration and evaporation of water. There is a two-channel safety protect devices in the system to ensure normal use of equipment
(2) Flip-bearing installed turnover oil tank, and its self can stand and turnover. So, we are easy to unload work piece. It installed interlock device of turnover and return in the flip-bearing. After flip-bearing turn over, the other actions are on armed state. And act after the flip-bearing return, it can protect the machine.
(3) The ends of upper roller installed balance device. This device balance upper roller when the flip-bearing turn over. And then it's easy to unload work piece.
(4) This machine uses the base as a whole, it has high strength, easy to lift and install. And the base frame using welding structure and annealing aging treatment to eliminate internal stress and improve the machine precision. Machine has building-block structure, beautiful form, more convenient maintenance.
3. Main Components of Plate Bending Machine
| | | | |
| --- | --- | --- | --- |
| Number | Component Name | Model | Manufacturer |
| 1 | Work roller | Up, bottom, side rollers | South steel |
| 2 | Ends roller of roller | Roller bearing | |
| 3 | Main motor | YZR series motor | Jiangsu |
| 4 | Hydraulic valve | | Taiwan |
| 5 | Seal washer of oil vat | YX series seal washer | Shenyang |
| 6 | High voltage soft pipe | | Kaifeng |
| 7 | PLC | C200HE-CPU  | ORMON |
| 8 | Touch screen | NT20-ST | ORMON |
| 9 | photoelectric encoder | | Chengdu |
4. Plate Bending Machine Workshop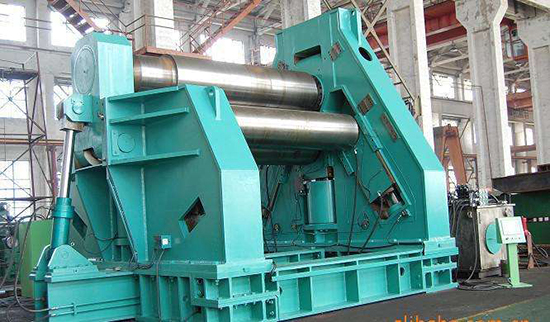 Contact with us now