MARINE & OFFSHORE EQUIPMENT
INDUSTRY EQUIPMENT
STOCK LIST
Oxygen flame arresting
Oxygen flame arresting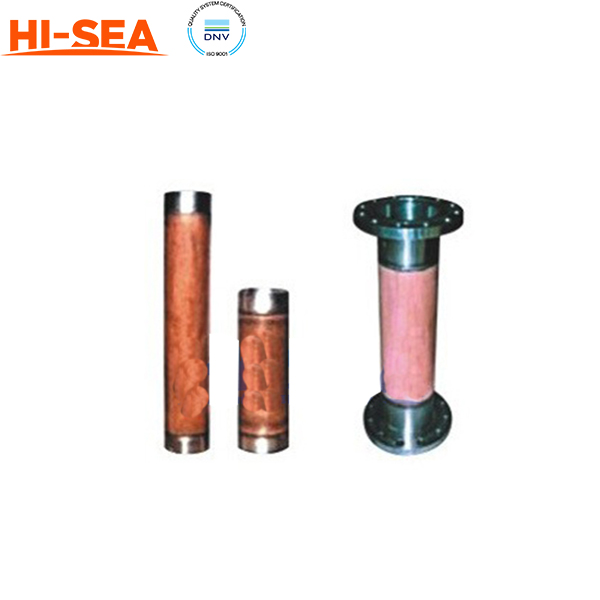 Description
Oxygen pipe flame arresting and valve front oxygen flame arresting and Post-valve oxygen flame arresting are welded with special copper alloy and stainless steel. It can effectively prevent the "adiabatic compression" which is easy to form when the oxygen pipeline valve is suddenly opened, the local temperature rises rapidly and becomes the ignition energy; It can be prevented under the action of the pressure difference between the front and the back of the valve, the particles of high-speed movement (such as rust, dust, welding slag and etc.) rubs against the pipe behind the valve and impact produces spark to become the ignition energy. The oxygen flame arresting can quickly block the supply of goods and prevent the occurrence of explosions in the pipeline. It is widely used in oxygen transportation pipelines of metallurgy, chemical industry, etc. Customers can directly run this product by welding and connecting the appropriate part of the oxygen pipeline.
Features
The oxygen flame arresting has a reasonable structure, light weight and corrosion resistance. Easy to overhaul, easy to install, qualified for detonation, and qualified for water pressure test of the shell.
Technical Parameter
DN

Valve front oxygen flame arresting

Post-valve oxygen flame arresting

Model

D

L

Model

D

L

15

ZHQ-Y-1.5F

18

600

ZHQ-Y-1.5B

18

1600

20

ZHQ-Y-2. 0F

25

600

ZHQ-Y-2.0B

25

1600

25

ZHQ-Y-2.5F

32

600

ZHQ-Y-2.5B

35

1600

32

ZHQ-Y-3.2F

38

600

ZHQ-Y-3.2B

38

1600

40

ZHQ-Y-4.0F

48

600

ZHQ-Y-4.0B

48

1600

50

ZHQ-Y-5.0F

57

700

ZHQ-Y-5.OB

57

1700

65

ZHQ-Y-6.5F

76

700

ZHQ Y-6. 5B

76

1700

80

ZHQ-Y-8.0F

89

700

ZHQ-Y-8.OB

89

1700

100

ZHQ-Y-10.0F

108

700

ZHQ-Y-10.0B

108

1700

125

ZHQ-Y-12.5F

133

700

ZHQ-Y-12.5B

133

1700

150

ZHQ-Y-15.0F

159

800

ZHQ-Y-15.0B

159

1800

200

ZHQ-Y-20.0F

219

800

ZHQ-Y-20.0B

219

1800

250

ZHQ-Y-25.0F

273

800

ZHQ-Y-25.0B

273

1800

300

ZHQ-Y-30.0F

325

800

ZHQ-Y-30.0B

325

1800

350

ZHQ-Y-35.0F

377

800

ZHQ-Y-35.0B

377

2050

400

ZHQ-Y-40.0F

426

800

ZHQ-Y-40.0B

426

2300
Maintenance and use
The pipe of installing the oxygen flame arresting must be clean, free from impurities, dirt and other things that affect the normal use of the flame arresting. Oxygen flame arresting is generally installed horizontally or vertically; the site can be directly installed on the required pipeline according to the connection method; when cleaning the oxygen core member, it should be purged with high pressure steam, non-corrosive solvent or Compressed air, and should not be sharp hardware scrubbing.
In order to ensure the performance of the oxygen flame arresting for safe use, the flame arresting should be regularly inspected and maintained. The oxygen flame arresting is inspected every six months to check whether there is any deformation or gap in the copper section of the oxygen pipeline flame arresting. If similar problems occur, the oxygen flame arresting should be replaced in time to ensure the safety of the oxygen pipeline gas transmission.
When re-installing the oxygen flame arresting, the seal of the flame arresting and the pipeline should be ensured, and no air leakage should be allowed.
Order Notice
Please specify the following parameters when ordering to provide you with the product that meets the requirements,
1. Nominal diameter
2. Working pressure
3. Material
4. Connection form
5. Media
6. Installation position
Related products for "Oxygen flame arresting"
Contact with us now