MARINE & OFFSHORE EQUIPMENT
INDUSTRY EQUIPMENT
STOCK LIST
Oil Tanker Boarding Ladder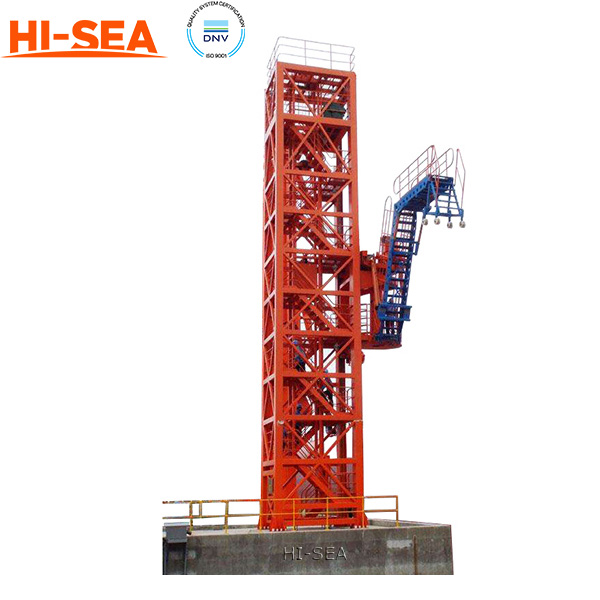 Oil Tanker Boarding Ladder
1. Oil Tanker Boarding Ladder Application
Boarding ladder is an equipment for people boarding and disembarking safely and favourably during oil tanker operating at modern size oil dock. The conventional boarding equipment accomplish the purpose by accommodation ladder of tanker. During the development of oil dock, latter-day size oil dock, special naked pier, dock surface is discontiguous and too high in elevation, the ship bump and drift continually and strongly during operation.
Distance between the shipboard in berth and the edge of dock is too long because of the large fender, in this condition, it is difficult to settle the contact between ship and dock with accommodation ladder. So as to accelerate loading work of tanker and ensure that people is safe during board and disembarking, the boarding ladder almost become a necessary equipment same as marine loading arm at oil dock.
There are many types of boarding ladder for selection. Usually adapting mechanical and hydraulic drive system for drive mechanism of boarding ladder, and equipped various protection device as per requirement during design to ensure each drive mechanism safe operation, determine to adopt explosion proof electrical equipment for boarding ladder according to the characteristic of handing oil at dock.
2. Government Standard of Oil Tanker Boarding Ladder
Our boarding ladder completely meet following government standard:
(1) Hoister design standards
(2) Steel structure design standards
(3) Chemical and petroleum enterprise design standards—fireproof electrics
(4) Handing oil dock fireproof design standards
(5) Measurement of dry film thickness
(6) Surface rust grade and scale removal grade of steel before painting
(7) Erection quality test criterion for harbor equipment
(8) Hydraulic system general technical specification
(9) Steel and alloy chemical analysis
3. Oil Tanker Boarding Ladder Main Technical Parameters
| | |
| --- | --- |
| equipment gross power | 5.5~16kw |
| equipment weight | 8~35T |
| working height range | Above 20m, below 7m |
| swing angle of platform | ±90°,360° |
| working grade | M4 |
| pitching angle of main ladder | ±50° |
| pitch angle of front ladder | 0~60° |
| design pressure of hydraulic cylinder | 0~16MPa |
| explosion proof grade | DIIBT4 |
| protection grade | IP55 |
| type | B L × |
4. Oil Tanker Boarding Ladder Working Picture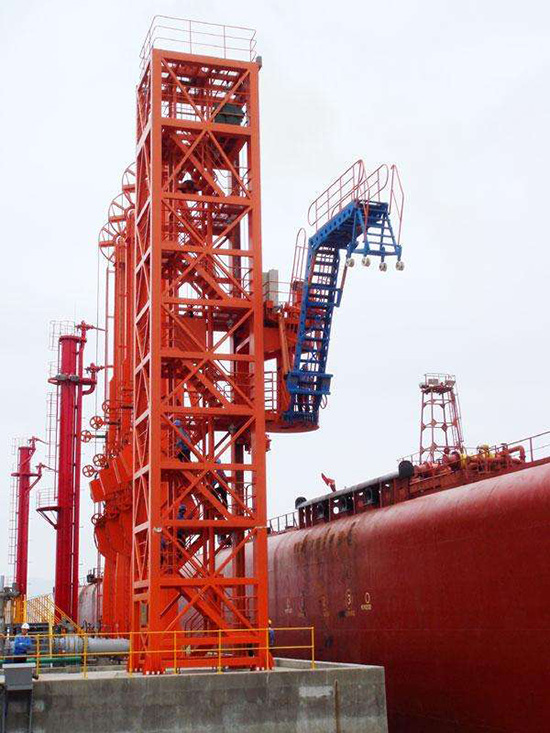 Related products for "Oil Tanker Boarding Ladder "
Contact with us now