MARINE & OFFSHORE EQUIPMENT
INDUSTRY EQUIPMENT
STOCK LIST
Oil Dock Boarding Ladder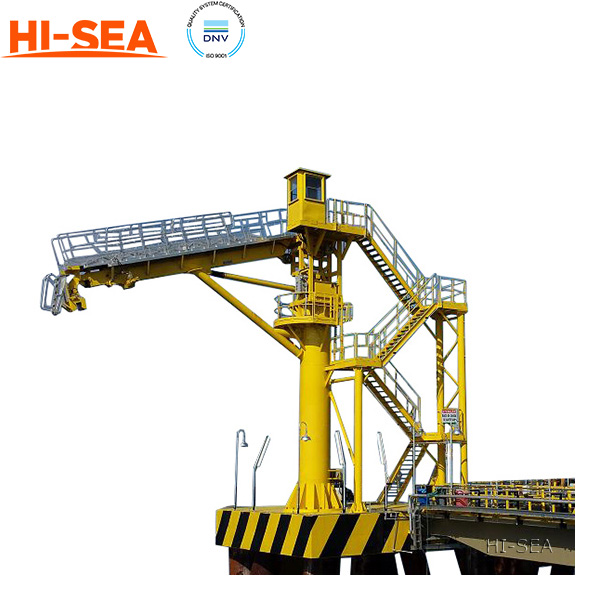 Oil Dock Boarding Ladder
1. Oil Dock Boarding Ladder Application
Boarding ladder is an equipment for people boarding and disembarking safely and favourably during oil tanker operating at modern size oil dock. The conventional boarding equipment accomplish the purpose by accommodation ladder of tanker. During the development of oil dock, latter-day size oil dock, special naked pier, dock surface is discontiguous and too high in elevation, the ship bump and drift continually and strongly during operation. Distance between the shipboard in berth and the edge of dock is too long because of the large fender, in this condition, it is difficult to settle the contact between ship and dock with accommodation ladder. So as to accelerate loading work of tanker and ensure that people is safe during board and disembarking, the boarding ladder almost become a necessary equipment same as marine loading arm at oil dock.
The boarding ladder must have good technical performance for the environment though its function is simple. For adapting to the fluctuation of ship to dock and the happenchance, a detail analysis about information of hydrography, weather and ship which shall arrive of the port will be carried out during design, to confirm the suitable operation condition and choose the correct scheme and reliable preventive measure so as to attain anticipative purpose.
2. Characteristics of Oil Dock Boarding Ladder
(1) The material of ladder body is aluminum alloy, it is light and safe.
(2) Adopt four-link mechanism for steps, and steps will keep in horizontal when the ladder changing in a range of minus 45 degrees to 60 degrees.
(3) The triangle ladder and front ladder are connected with single point, so that the land wheel under triangle will still keep contacting with deck of ship steadily and be immune from influence from bump of ship and inequality.
(4) The hydraulic system is arranged suitably, weather proof and convenient to maintain.
(5) Locking performance of the lifting mechanism is firm and interlocked.
(6) The electric control system is designed independently by our company and adopt domestic and international products of famous manufacturer for main components, has reliable quality and good performance.
(7) The wireless remote made operating more convenient.
3. Government standard of Oil Dock Boarding Ladder
Our boarding ladder completely meet following government standard:
(1) Hoister design standards
(2) Steel structure design standards
(3) Chemical and petroleum enterprise design standards—fireproof electrics
(4) Handing oil dock fireproof design standards
(5) Measurement of dry film thickness
(6) Surface rust grade and scale removal grade of steel before painting
(7) Erection quality test criterion for harbor equipment
(8) Hydraulic system general technical specification
(9) Steel and alloy chemical analysis
4. Oil Dock Boarding Ladder Main Technical Parameters
| | |
| --- | --- |
| equipment gross power | 5.5~16kw |
| equipment weight | 8~35T |
| working height range | Above 20m, below 7m |
| swing angle of platform | ±90°,360° |
| working grade | M4 |
| pitching angle of main ladder | ±50° |
| pitch angle of front ladder | 0~60° |
| design pressure of hydraulic cylinder | 0~16MPa |
| explosion proof grade | DIIBT4 |
| protection grade | IP55 |
| type | B L × |
5. Working Picture of Oil Dock Boarding Ladder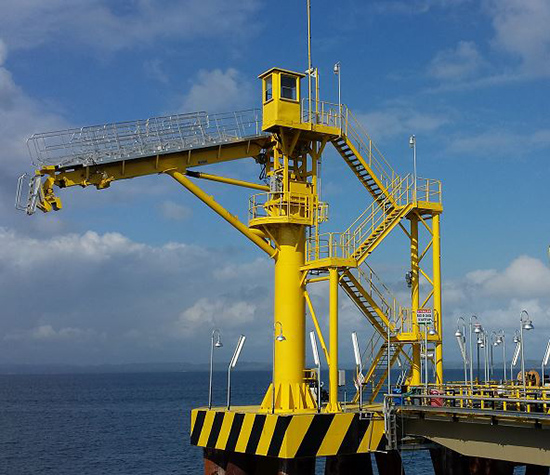 Related products for "Oil Dock Boarding Ladder"
Contact with us now