Marine Hot Well Unit Module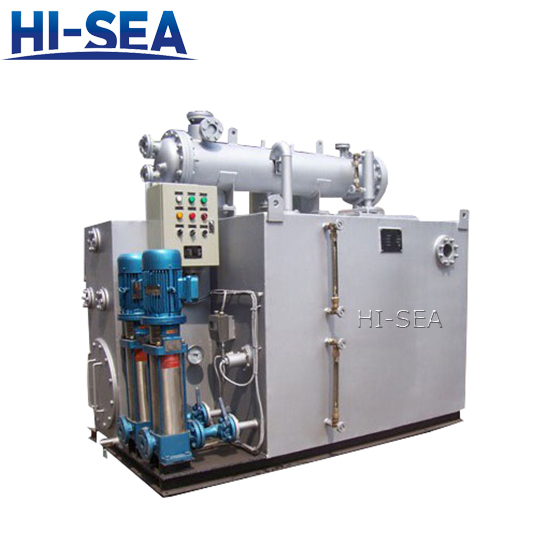 Marine Hot Well Unit Module
1. Marine Hot Well Unit Module Preface
This series hot well is one of the most important parts of the combination systems of fuel-oil exhaust gas and boiler. The main use of hot well is to cooling the steam to water, which is the medium after the function of the internal cycle of exhaust gas boiler. The water is also used for the continue cycle of the system and at the same time it is useful to economize the fresh water and the remaining hot cycling. During the cycling system the medium would be inevitably polluted by oil and other impurities. At one time, hot well is also the filter instrument of the working medium of the cycling system. After the medium filtered through hot well cooled water, the oil and other impurities was separated, then drowned to the bottom of the cabin of the ship.
Hot well unit consists of 3 parts. These 3 parts respectively are the atmosphere condenser, the condensing water receive cupboard and the save cupboard (hot well).
2. System Composition of Marine Hot Well Unit Module
The hot well unit module is composed with public base, marine atmosphere condenser, condensate-water observation cabinet, hot-water well, automatic replenish-water valve, thermometer, temperature controller, liquid controller, hot-water pump, valve and etc.
The hot well unit is constituted part of steam condensate-water closed loop circulatory system. The surplus steam produced by boiler and condensate- water produced when the steam passing through the steam-using devices, they are cooled when passing through atmosphere condenser, then flow into hot-well, hot-water filtered in hot-well, exhausting the oil and dirty, sending it into boiler by pressure-increasing pump of boiler supply water, supply to continue circulatory in system, accomplishing heat-exchange of the whole system.
3. Marine Hot Well Unit Module Specification
The technical parameter is optional, we can accommodate your requirements, please don't hesitate to contact us!
No.

Type

Hot-well Capacity
m3)

Cooled Area
(m2)

Outline Dimension
L×B×H(mm)

1

ZHWU-0.3/2.0

0.25

1

1350×600×1050

2

ZHWU-0.5/3.0

0.5

2

1600×700×1250

3

ZHWU-0.75/5.0

0.75

3

1600×1000×1250

4

ZHWU-1.0/5.0

1

5

1700×1300×1450

5

ZHWU-1.0/8.0

1

8

1750×1300×1450

6

ZHWU-1.2/6.0

1.2

6

1800×1500×1650

7

ZHWU-1.2/8.0

1.2

8

1950×1500×1650

8

ZHWU-1.5/8.0

1.5

8

1950×1500×1950

9

ZHWU-1.5/10

1.5

10

1900×1500×1950

10

ZHWU-2.0/12

2

12

2000×1600×1950

11

ZHWU-2.0/15

2

15

2500×1600×1950

12

ZHWU-2.5/18

2.5

18

2500×1800×1950

13

ZHWU-2.5/20

2.5

20

2500×1800×1950
4. General Drawing of Marine Hot Well Unit Module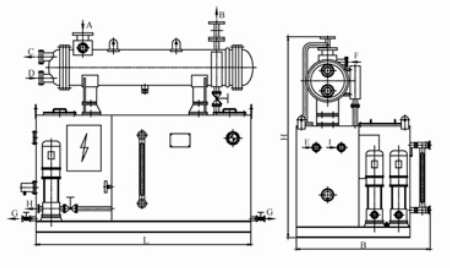 Contact with us now