MARINE & OFFSHORE EQUIPMENT
INDUSTRY EQUIPMENT
STOCK LIST
Electric Slewing Crane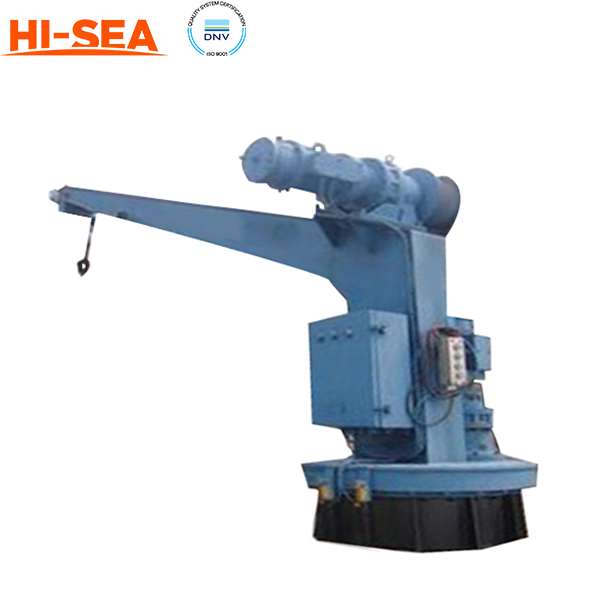 Electric Slewing Crane
Application
An electric slewing crane is a type of crane that uses an electric motor to lift and move heavy loads, while also allowing the crane to rotate or "slew" around its central axis. These cranes are commonly used in construction, manufacturing, and other heavy industries where heavy loads need to be lifted and moved to different locations. Electric slewing cranes are typically mounted on a pedestal or base, and are designed to be able to rotate around a vertical axis. They may be equipped with a variety of lifting attachments, such as hooks, grabs, or buckets, to handle different types of loads.
The electric motor used in an electric slewing crane is typically powered by electricity from the mains, and may be controlled by a remote control or a control panel located on the crane. Some electric slewing cranes are also equipped with advanced automation and safety features, such as anti-collision systems and overload protection, to ensure safe and efficient operation.
Material
Aliminum, stainless steel and carbon steel.
Advantages and Features
1. Corrosion resistance, long lifespan.
2. Working load from 0.5KN to 300KN.
3. Easy for maintenance, lubrication and inspection.
4. High strength construction, high efficiency gearbox.
5. Can be designed and manufacture to suit customers applications and special operating requirements.
6. General motor or explosion-proof motor.
7. Automatic & manual overload protection system.
8. 360° continuous rotation with limits available

9. Certificate: CCS, BV, LR ...
Drawing of Electric Slewing Crane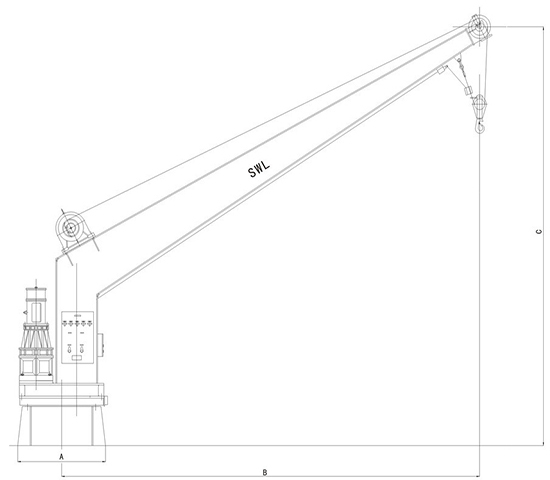 Main Technical Parameter
Safety

Load

Working

Radius

Hoisting

Speed

Luffing

Time

Slewing

Speed

Elc.

Motor

Power

(Hoisting/Traveling/Slewing)

KN

Max.

Min.

m/min

s

rpm

KW

5

8

2

12

35

0.8

2.2/1.5/1.5

10

8

2

10

35

0.7

3.7/2.2/1.5

15

8

2

12

40

0.7

5.5/3.7/2.2

20

10

2.5

10

50

0.6

7.5/5.5/3.7

30

10

3

10

60

0.55

11/7.5/5.5

40

12

3

10

65

0.5

15/11/7.5

50

15

4

10

85

0.4

18.5/11/11

Above specifications only for reference,

We can supply various marine cranes according to your requirements.



Related products for "Electric Slewing Crane"
Contact with us now