Desalination Facility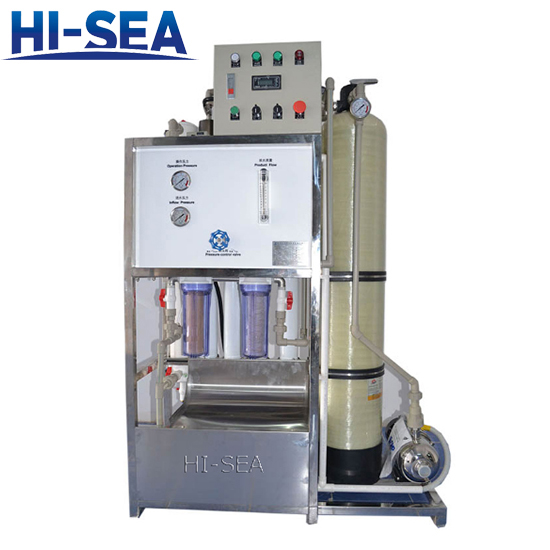 1. Introductions of Desalination Facility
This sea water desalting plant is accommodate to the seawater which average salinity is less than 35000ppm. The produced water is in accordance with your requirement when among this scale of seawater salinity. Quality of produced water meets National Drinking Water Standards (TDS≤600ppm). The main parts (membrane, high pressure pump and high pressure soft pipe) are warranty for a year free under the normal condition in terms of the request of operating-installation manuals. Requested environment conditions: environment temperature 0~45℃, seawater temperature 5~35℃, Humility 20%~95%.
The functions of our device including raw water boosting and pre-treatment system, online monitoring device of reverse osmosis product water salinity, semiautomatic cleaning and fore & back flushing system with compressed air acceleration of sand filter.
2. Desalination Facility System Requirements
requirements of customer
Fresh water standard comply with WHO
Capacity: 30m3/day
Salt content: ≤500mg/L
requirements of the device
Raw water: sea water
Model of Reverse Osmosis: One stage Reverse Osmosis
Purpose: Marine and offshore
Power supply: 440V, 60HZ, 3P
3. Desalination Facility Performance
(1) Sea water 35000-38000 PPM, for desalinating sea water into fresh water 600ppm.
(2) Semi-automatic cleaning and back-flushing system equipped for sand filter.
(3) There is over-pressure protection available for high pressure pump, when pressure is over 6.5Mpa, the system will shut down automatically.
(4) High pressure pump equipped with low-pressure protection device, when pre-treated sea water pressure is less than 0.05Mpa, the system will shut down automatically.
(5) Working parameter (Raw water flow, product flow, brine flow, operation pressure, product water conductivity)
4. Description of Desalination Facility main components
(1) Low speed high pressure triplex plunger: rubber damper of pump sets arranged already as per maker standard. The unit designed with a maximum pressure of 60 bar at a temperature of 25℃. This pump is the best in quality and performance in the market, which runs a very low number of revolutions which gives this pump a very high reliability against a low noise level. The pump is built together with a marine type electric motor of 2.2kW, belt driven.
Capacity: 2m3/h
Work pressure: 55bar
Power supply: 3×380VAC, 50Hz, 2.2kw
Protection class: IP55
Insulation: F
(2) Sand filter: made of fiber glass, the sand filer will remove suspended solids, mud, which the size is over 20mU. The filter tank equips semiautomatic valve ensure fore and back-flushing, and keep treated sea water out of solid germs etc. which well accelerate back-flushing application.
Volume: 150L
Capacity: Max 2m3/h
Working pressure & test pressure: 2~4bar & 6bar
(3) Fine filters with replaceable and washable filter candles from 10 and 5 u.. The unique design of the quick change filter candles .
Capacity: Max 2m3/h
Working pressure & test pressure: 2~4bar & 6 bar
Filter element#2: 5u
(4) Membranes make DOW (USA). Those membranes are from the latest knowledge in membrane technology, the standards for membranes are continuously in progress by excessive study through DOW, they have reached the highest standard today.
Model: SW30-2540
Quantity: 4
Configuration: Spiral wound
Membrane Polymer: Composite Polyamide
5. Desalination Facility General Drawing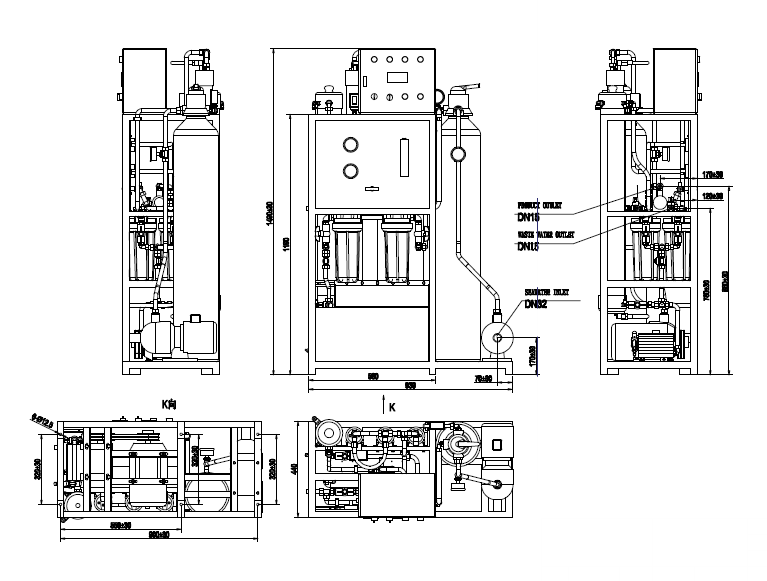 6. Desalination Facility Several Class Certificates Supply:
ABS, BV, DNV, GL, KR, RINA, NK, USCG and CCS class certificates.


Related products for "Desalination Facility"
Contact with us now