Desalination Plant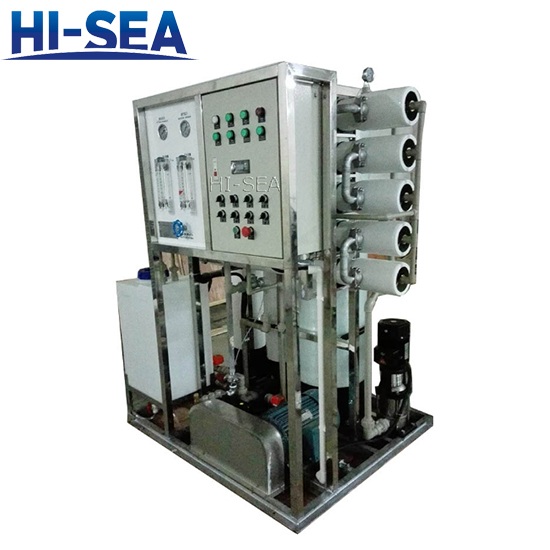 1. Desalination Plant Preface
This sea water desalting plant is accommodate to the seawater which average salinity is less than 38000ppm. The produced water is in accordance with your requirement when among this scale of seawater salinity. Quality of produced water meets National Drinking Water Standards (TDS≤600ppm). The main parts (membrane, high pressure pump and high pressure soft pipe) are warranty for a year free under the normal condition in terms of the request of operating-installation manuals. Requested environment conditions: environment temperature 0~45℃, seawater temperature 5~35℃, Humility 20%~95%.
The functions of our device including raw water boosting and pre-treatment system, online monitoring device of reverse osmosis product water salinity, semiautomatic cleaning and fore & back flushing system with compressed air acceleration of sand filter.
2. The System Requirements of Desalination Plant
requirements of customer
Fresh water standard comply with WHO
Capacity: 30m3/day
Salt content: ≤500mg/L
requirements of the device
Raw water: sea water
Model of Reverse Osmosis: One stage Reverse Osmosis
Purpose: Marine and offshore
Power supply: 440V, 60HZ, 3P
3. Desalination Plant Performance
(1) Sea water 35000-38000 PPM, for desalinating sea water into fresh water 600ppm.
(2) Semi-automatic cleaning and back-flushing system equipped for sand filter.
(3) There is over-pressure protection available for high pressure pump, when pressure is over 6.5Mpa, the system will shut down automatically.
(4) High pressure pump equipped with low-pressure protection device, when pre-treated sea water pressure is less than 0.05Mpa, the system will shut down automatically.
(5) Working parameter (Raw water flow, product flow, brine flow, operation pressure, product water conductivity)
4. Desalination Plant Technical Parameters
Product: 1.25m3/H
Raw water: ≤38000PPM
Inlet temperature: 5~35℃
PH value of Raw Water: 6.0~8.0
Boosting inlet pressure: 0.1~1kg/cm2 (Positive)
Salt content of product water: ≤500PPM
Desalination rate: ≥99%
Product water pressure: ≤0.3Mpa
Recovery: ≈ 25%
Power supply: 440VAC/60HZ/3φ
Power consumption: ≈13.5KW(Include boost pump)
Control cabinet: 220VAC
Control voltage: 220VAC
Potential-free extension for running indication and common alarm available.
Motor: IP55
Insulation class: "F"
Outline: L×W×H=2000×1500×2100mm
Weight: Dry: ≈ 1500kg
Wet: ≈ 2000kg
5. Main Spare Parts of Desalination Plant
Item

Specification

Unit

Qty

Remark

Boost pump

Capacity: 2.0m3/h,

head: 40m

Type: CHL2-40

Set

1

SS316

Sand filter

Ф×H=250×1350mm

Set

1

Glass fibers

Valve sets

DF-56

Set

1

Fine filter

1×10"×5um

Set

1

5-micron size

Fine filter

1×10"×10um

Set

1

10-micron size

Filter core

10"-10u

Set

1

Fiber

Filter core

10"-5u

Set

1

fiber

Motor

Maker standard

Set

1

2.2kw

High pressure pump

RT21.10

Set

1

Belt

A750

Set

2

Motor wheel

Maker standard

Set

1

Membranes

SW30-2540

Set

4

)

Membrane shell

Ropv

Set

4

1000PSI

Pressure adjust valve

DN25

Set

1

316L needle valve

Intel water Pressure gauge

0.7Mpa

Set

1

High pressure inlet pressure

Operation Pressure gauge

10Mpa

Set

1

Membrane inlet pressure

Pressure gauge

0.7Mpa

Set

1

Flow meter

Maker standard

Set

1

sea water inlet flow meter

Flow meter

Maker standard

Set

1

drinking water flow

Conductivity meter

CM320

Set

1

0~2000us, Ac:0.1us

Pressure switch

BD-A3

Set

1

0.065~1.2Mpa

Safety valve

SR3/8"

Set

1

Frame

Mild steel

Set

1

304

Cleaning tank

set

1

UPVC

Piping system

DN25,DN15

set

1

PPR
6.
Desalination Plant
Several Class Certificates Supply:
ABS, BV, DNV, GL, KR, RINA, NK, USCG and CCS class certificates.

Related products for "Desalination Plant"
Contact with us now