MARINE & OFFSHORE EQUIPMENT
INDUSTRY EQUIPMENT
STOCK LIST
Portable Seawater Desalination Plant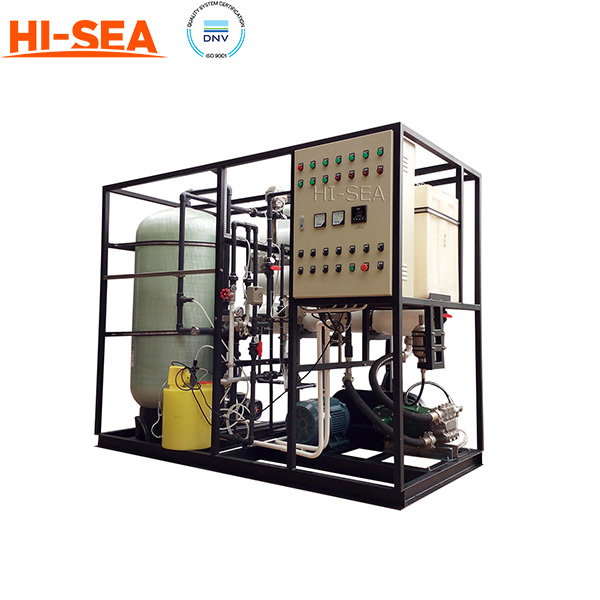 Portable Seawater Desalination Plant
1. Portable Seawater Desalination Plant Description
With world leading "Reverse Osmosis Membrane technology", our Portable Seawater Desalination Plant efficiently convert seawater into ultra clean and clear drinking water free from odors and bacteria. The converted water meets the national drinking water quality standard (GB5749-2006).
The Portable Seawater Desalination Plant is designed for fisher, steamship and littorals where lack of freshwater. This plant can make seawater get rid of mineral, organism, bacteria and many others, become ultra clean and clear freshwater which meets the national drinking water quality standard. This pre-filtration system complete the large flow backwashing and washing procedure full automatic by adopting the most advanced full automatic multiport valves. The system has installed new body case with all pipes made of resistant material, so that the whole system can use a long time. RO system has adopted advanced RO system components and high-quality membranes elements, and has designed according to the equipment's output combining with unique efficient technology so that the system can save much energy. With advanced inspection and monitoring system, the system can present precise information about the operation system and make sure the whole system operate stably and safely. More advanced devices has been installed in this system, such as flow and pressure control meters、atmospheric valve and blow down piping, which make sure the whole system work stably , safely and conveniently.
2. System components & introduction of Portable Seawater Desalination Plant
(1) Feed pump
Quantity: 1
Single water flow: 4m³/h
Head of delivery: 30m
power: 0.75KW
Providing backwashing and rinsing engine for multi medium filter and precision filter.
(2) Multi medium filters
Quantity: 1
Size: Ø350x1410mm
single water output: >3m³/hr
output pressure: 0.4Mpa.
The function of multi medium filter is to guarantee the entire alga, specially the suspended solid, minerals, metals and many other large particulate get rid of the original water .The filter can reduce the pollution index of the original water which can meet the RO system's requirement at a long term.
This multi medium filter has installed rinse system, which will rinse and backwash the filter manual, this measure guarantees the quality of the inlet water without worrying the filter will be blocked up by the pollution particulate.
(3) Precision Filter
The inner part of UPVC micro filtration filter is set 10um winding wire filter cartridge and 5umpp filter cartridge. In order to prevent the material leakage in filter and left suspended solid from entering the membrane system before water enter reverse osmosis equipment through passing activated carbon filter, a security filter should be set ahead of the membrane system. Taking account of the filtering effect, operation cost and convenience to replace the filter bag and other operation, this design adopts the most advanced filtration technology of our company.
In order to make sure the RO system membrane will not be broken by the suspended solid, all the solid that greater than 5 microns will be stopped getting through the filter.5-microns must be installed before the RO system to insure the safety of RO membrane because larger particle in the raw water may scratch RO membrane elements when high pressure pump operates rapidly.
(4) Reverse osmosis system
One RO water input high pump:the effect of high pump is to provide enough input pressure for reverse osmosis device. According to the nature of reverse osmosis itself, a certain degree of driving force is needed to overcome osmotic pressure and other resistance and to reach the specific productivity designed.
(5) Reverse osmosis main body device
Quantity:1 set
RO system is the central desalination unit in this system, almost all soluble salt, colloid, organics and microbe will be cleaned out by applying the RO membrane's peculiarity. The qualified output water by pretreatment enter Ro system .Water molecule throw membrane, collect by plumbing, finally, enter water tank. Concentrate water be collected by another plumbing, finally, it is exhausted. The system has valves, monitoring meter and programming controller operating system, they will ensure systematic running chronically.
(6) Rinse system
Quantity:1 set
RO system after running chronically, It can be polluted by some substances rinse out hardly. Micro-salt and organics scale chronically to make film performance decline, operating pressure go up, so system must be rinse with chemical agent, so that it return to normal.
Rinse the system should according to differential pressure, salt rejection and product water and so on to assess Membrane Polluting circumstances. According to these circumstances, we decide to use appropriate chemical agent. And we compound equivalent concentration agent, to remove polluting substances in Membrane system, to make it return to normal. Even though pretreatment work very well, Membrane system can be polluted when it run a long time. So we designed rinse system. It can rinse Membrane system with chemical agent, when film is polluted.
(7) Control system
Basic control system
The basic components of Electrical control system adopt Schneider's components, with high-pressure pump and output pump of PLC control module control system.
On-site control cabinet
Equipment operating interface has on-site control cabinet,which is made of color steel spray.
3. Portable Seawater Desalination Plant Basic Technical Parameters
(1) Raw water
Source: ≤36000mg/L
Inlet temperature: 5~45℃
Inlet Flow: 5.96m³/h
(2) Product water
Product flow: 50m³/D
Product recovery rate: 35%
Rejection: ≥99.5%
Product quality: ≤700mg/L
Operating pressure: <6.5MPa
(3) Power
Voltage: 380V/50Hz/three-phase
Power: 15KW
Protection Levels: IP54
(4) Work environment
Environment temperature: 0~45℃
Air humidity: 20~90%
4. Certificates of Portable Seawater Desalination Plant: ABS, BV, DNV, GL, KR, RINA, NK, LR and CCS approvable.


Related products for "Portable Seawater Desalination Plant"
Contact with us now