CBT 3844-2000 Marine Roller Lever Chain Stopper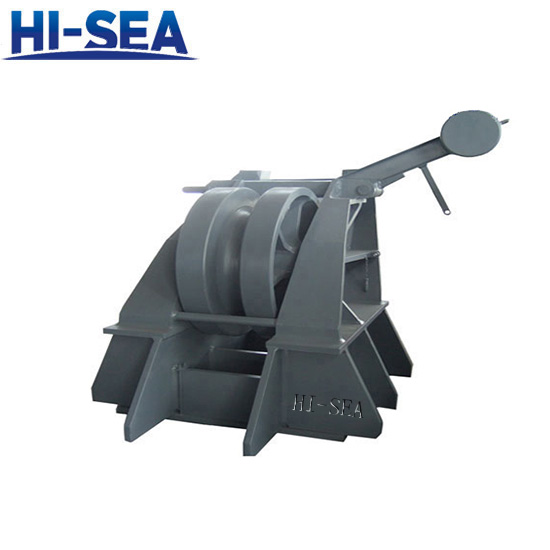 CB/T 3844-2000 Marine Roller Lever Chain Stopper
Application: Chain stopper is an important mooring device to fix the anchor chain and to prevent it slide out when vessels sails or drops anchor. It can reduce the working load to protect the anchor windlass. CB/T 3844-2000 marine roller lever chain stopper is applicable to one-stage, two-stage and three-stage anchor chains in diameter of 42~132mm. Marine lever chain stopper can be welded directly to the deck. Complying with the regulatory requirements of GL, LR, and DNV classification societies, roller lever chain stopper can withstand 80% of anchor chain's minimum breaking load without permanent deformation.
Features of Marine Roller Lever Chain Stopper
1. Model Type: marine roller lever chain stopper;
2. Shipbuilding Standard: CB/T 3844-2000;
3. Applicable Anchor Chain Diameter: 42~132mm;
4. Weight: 274~6244kg;
5. Material: Cast Steel;
6. Smooth, polished surface without any defects such as cracks, sand hole that influence the strength;
7. Surface Coating: anti-rust primer and bitumen paint;
8. Flexible roller, accurate positioning;
9. Certificate: CCS,ABS,BV,LR,NK and etc.;
10. Can be designed according to customer's requirements.
Drawing of CB/T 3844-2000 Marine Roller Lever Chain Stopper: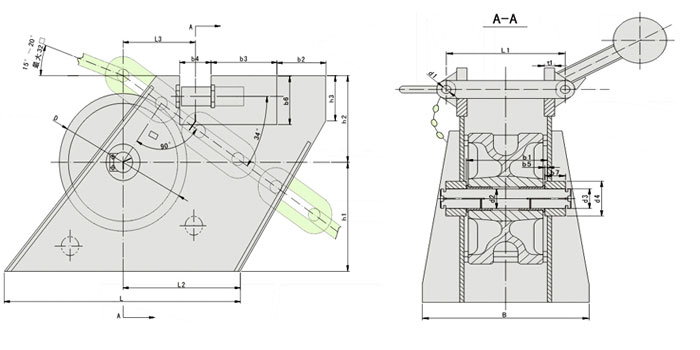 | | | | | | | | | | | | | | | | | |
| --- | --- | --- | --- | --- | --- | --- | --- | --- | --- | --- | --- | --- | --- | --- | --- | --- |
| Nominal Diameter | Chain Diameter | L | L1 | L2 | L3 | L4 | B | b1 | D | d1 | d2 | h1 | h2 | t | t1 | Weight(kg) |
| 44 | 42~44 | 1000 | 370 | 400 | 270 | 80 | 380 | 260 | 484 | 22 | 69 | 392 | 281 | 12 | 32 | 274 |
| 48 | 46~48 | 1050 | 420 | 450 | 300 | 85 | 446 | 286 | 528 | 26 | 73 | 414 | 306 | 12 | 34 | 351 |
| 52 | 50~52 | 1100 | 440 | 500 | 320 | 90 | 510 | 310 | 572 | 32 | 77 | 440 | 338 | 14 | 36 | 451 |
| 56 | 54~56 | 1150 | 450 | 550 | 340 | 92 | 556 | 316 | 600 | 34 | 81 | 460 | 354 | 15 | 38 | 536 |
| 60 | 58~60 | 1200 | 470 | 570 | 360 | 95 | 610 | 330 | 620 | 38 | 87 | 490 | 378 | 16 | 40 | 651 |
| 64 | 62~64 | 1250 | 500 | 600 | 370 | 100 | 666 | 346 | 640 | 40 | 94 | 520 | 400 | 17 | 42 | 753 |
| 68 | 66~68 | 1300 | 550 | 640 | 394 | 102 | 732 | 372 | 680 | 42 | 101 | 540 | 420 | 18 | 45 | 939 |
| 73 | 70~73 | 1350 | 570 | 670 | 414 | 110 | 800 | 400 | 730 | 45 | 109 | 580 | 460 | 20 | 48 | 1178 |
| 78 | 76~78 | 1400 | 610 | 700 | 442 | 115 | 865 | 425 | 780 | 48 | 116 | 630 | 490 | 22 | 50 | 1422 |
| 84 | 81~84 | 1460 | 650 | 740 | 475 | 120 | 940 | 454 | 840 | 50 | 124 | 670 | 530 | 24 | 55 | 1758 |
| 90 | 87~90 | 1540 | 710 | 780 | 507 | 135 | 1030 | 484 | 900 | 55 | 132 | 720 | 570 | 26 | 60 | 2171 |
| 95 | 92~95 | 1600 | 740 | 820 | 535 | 140 | 1080 | 508 | 950 | 58 | 139 | 760 | 610 | 28 | 65 | 2567 |
| 102 | 97~102 | 1680 | 790 | 870 | 572 | 145 | 1150 | 540 | 1020 | 60 | 148 | 800 | 650 | 30 | 70 | 2755 |
| 107 | 105~107 | 1750 | 840 | 900 | 600 | 150 | 1210 | 569 | 1070 | 63 | 154 | 860 | 690 | 32 | 75 | 3640 |
| 114 | 111~114 | 1820 | 880 | 940 | 637 | 160 | 1270 | 598 | 1140 | 68 | 163 | 910 | 740 | 34 | 80 | 4302 |
| 122 | 117~122 | 1880 | 930 | 1010 | 679 | 165 | 1340 | 632 | 1220 | 70 | 173 | 980 | 790 | 36 | 85 | 5326 |
| 132 | 124~132 | 1960 | 1000 | 1080 | 730 | 175 | 1440 | 674 | 1320 | 75 | 185 | 1060 | 860 | 38 | 90 | 6244 |
Mooring chain stopper in factory: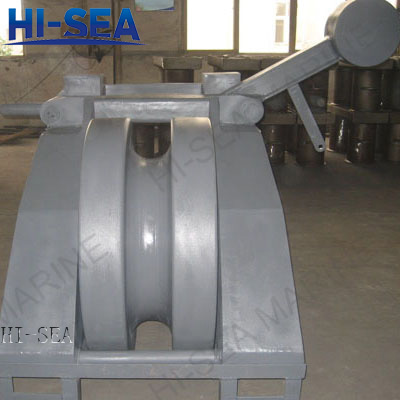 IACS Certificates:

Contact with us now