British Standard Straight Link Chain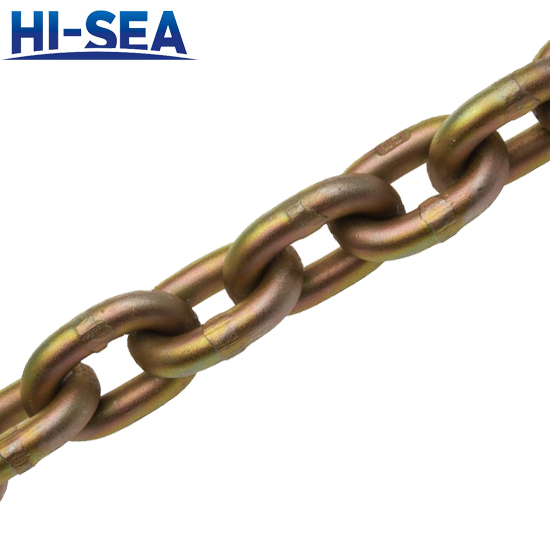 British Standard Straight Link Chain
1. Product Description
The British standard link chain is suitable for general purposes, such as in engineering, industrial, agricultural and marine sectors. Hi-sea offers high quality link chains of three options of short, medium and long link sizes as you wish. The short link chains with load rating Grade 80 to 100 perform well in overhead lifting.
We can offer several material solutions including 304 & 316 stainless steel, alloy steel, and low carbon steel to meet all clients' individual needs in different ways. And all products are of high quality at moderate prices.
Get free help from information expert, and instant quote today!
2. Features of British Standard Straight Link Chain
• Type: short, medium and long link chain
• Materials: 304&316 stainless steel, alloy steel, low carbon steel
• Finish: hot-dip/ electro galvanized
• Packaging: drums, reels, bags, hanks or as your request
• Application: for general purposes
3. Specifications for British Standard Short Straight Link Chain
Material Diameter

Internal Length

Outside Width

Test Load

Breaking Load

Weight per 200 Feet

kg

in

mm

mm

mm

kg

kg

B.F.

H.D.G

1/8

3.20

16

12

200

400

11.4

11.74

5/32

4.00

18.5

14.5

300

600

18.6

19.00

3/16

4.70

19

17

400

800

26.2

27.00

7/32

5.50

20

19

550

1100

36.8

38.00

1/4

6.35

22

21

750

1500

50.0

51.50

5/16

7.94

26.5

27.2

1200

2400

80.0

82.40

3/8

9.50

30

32

1700

3400

122.0

125.70

7/16

11.11

34

36

2300

4600

164.0

169.00

1/2

12.70

39

43

3000

6000

210.0

216.00

5/8

15.80

45

53

4700

9400

334.0

344.00

3/4

19.00

55

63

6800

13600

485.0

499.00

7/8

22.20

64

74

9250

18500

656.0

675.00

1

25.40

73

84

12150

24300

870.0

896.00
Specifications for British Standard Medium Straight Link Chain
Material Diameter

Internal Length

Outside Width

Test Load

Breaking Load

Weight per 200 Feet

kg

in

mm

mm

mm

kg

kg

B.F.

H.D.G

1/8

3.20

20

12

200

400

10.80

11.00

5/32

4.00

23

15

300

600

17.40

18.00

3/16

4.70

25

18

400

800

24.40

25.00

7/32

5.50

26

19

550

1100

34.00

35.00

1/4

6.35

26

23

750

1500

48.80

50.00

5/16

7.94

32

29

1200

2400

76.00

78.00

3/8

9.50

35

35

1700

3400

111.00

114.00

7/16

11.11

38

38

2300

4600

154.00

158.00

1/2

12.70

50

45.5

3000

6000

194.00

200.00

5/8

15.80

60

56.7

4700

9400

303.00

312.00

3/4

19.00

76

69

6800

13600

432.00

445.00

7/8

22.20

90

80

9250

18500

586.00

603.00

1

25.40

105

95

12150

24300

770.00

792.00
Specifications for British Standard Long Straight Link Chain
Material Diameter

Internal Length

Outside Width

Test Load

Breaking Load

Weight per 200 Feet

kg

in

mm

mm

mm

kg

kg

B.F.

H.D.G

1/8

3.20

23

12

200

400

10.40

10.70

5/32

4.00

27

15

300

600

16.60

17.50

3/16

4.70

31

17

400

800

22.40

23.30

7/32

5.50

32

19

550

1100

32.00

33.00

1/4

6.35

33

21

750

1500

43.50

44.80

5/16

7.94

48

31

1200

2400

68.00

70.00

3/8

9.50

60

37

1700

3400

96.00

99.00

7/16

11.11

71

41

2300

4600

126.00

129.00

1/2

12.70

85

48.5

3000

6000

167.00

172.00

5/8

15.80

114

61.5

4700

9400

256.00

264.00

3/4

19.00

125

75

6800

13600

381.00

392.00

7/8

22.20

140

88

9250

18500

527.00

543.00

1

25.40

155

100

12150

24300

696.00

716.00
4. Photo of British Standard Straight Link Chain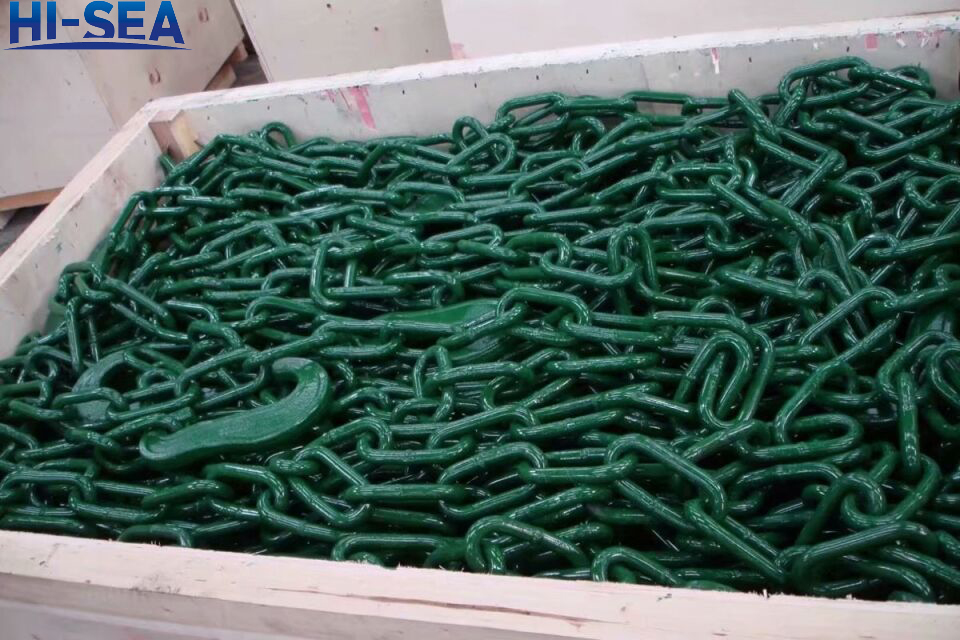 Contact with us now