MARINE & OFFSHORE EQUIPMENT
INDUSTRY EQUIPMENT
STOCK LIST
10T Seawater Desalination Equipment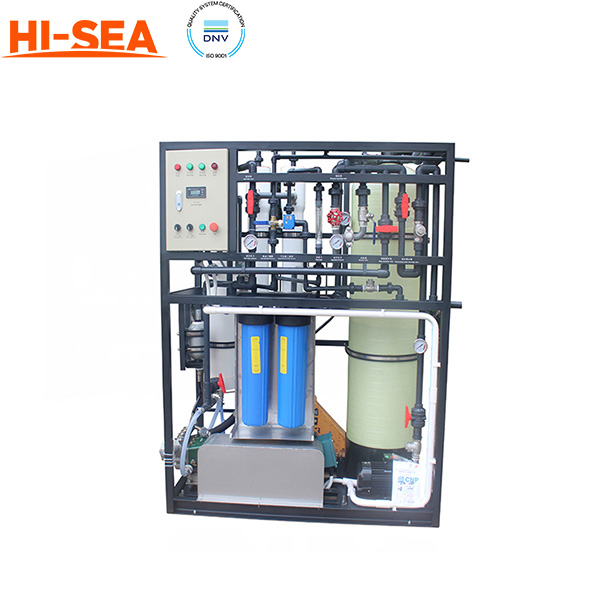 10T Seawater Desalination Equipment
Description
The seawater desalination equipment is designed for fisher, steamship and coastland where lack of freshwater. This equipment can make seawater get rid of mineral, organism, bacteria and many others, become ultra clean and clear freshwater which meets the national drinking water quality standard. This pre-filtration system complete the large flow backwashing and washing procedure full automatic by adopting the most advanced full automatic multiport valves. All pipes made of resistant material, so that the whole system can use a long time. RO system has adopted advanced RO system components and high-quality membranes elements, and has designed according to the equipment's output combining with unique efficient technology so that the system can save much energy. With advanced inspection and monitoring system, the system can present precise information about the operation system and make sure the whole system operate stably and safely.
Main Configuration
Model

HS

-FSHB

10

Raw water

≤40000mg/L

Inlet temperature

5

~

45℃

Inlet flow

2m

3

/h

Product flow (Optional)

10m

3

/D

Rejection

≥99.5%

Product quality

≤700mg/L

Operating pressure

<

6.5MPa

Voltage

380V/50Hz/three-phase (Other voltage optional)

Environment temperature

0

~

45℃

Air humidity

20

~

90%
Process Flow Diagram

System Components
(1)Feed pump: Providing backwash and rinsing engine for multi medium filter and precision filter.
(2)Multi medium filters: The function of multi medium filter is to guarantee the entire alga, specially the suspended solid, minerals, metals and many other large particulate get rid of the original water .The filter can reduce the pollution index of the original water which can meet the RO system's long term requirement .
(3)Precision Filter: In order to prevent the material leakage in filter and left suspended solid from entering the membrane system before water enter reverse osmosis equipment through passing activated carbon filter, a security filter should be set ahead of the membrane system.
(4)Reverse osmosis system: RO system is the central desalination unit in this system, almost all soluble salt, colloid, organics and microbe will be cleaned out by applying the RO membrane's peculiarity.
(5)Rinse system: Ro system after running chronically, It can be polluted by some substances rinse out hardly. Micro-salt and organics scale chronically to make film performance decline, operating pressure go up, so system must be rinse with chemical agent, so that it return to normal.
IACS Certificate Options: BV, CCS, NK, DNV, GL, IRS, ABS, LR, RMRS, RINA

Related products for "10T Seawater Desalination Equipment"
Contact with us now