Marine Mobile Rust Romoving Machine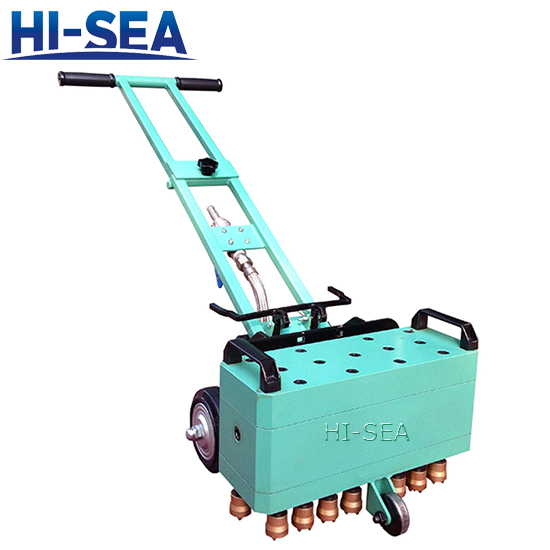 Marine Mobile Rust Romoving Machine
1. Marine Mobile Rust Romoving Machine Preface
Developed for de-scaling smaller areas and spot scaling surfaces. This marine mobile rust romoving machine uses a disposable chain drum system with specially prepared chain links that deliver 80000 blows per minute and this is the key to its quick and efficient method of surface preparation.
2. Marine Mobile Rust Romoving Machine Warning
(1) Broken socket or cable is prohibited.
(2) Check the motor and A/C switch to avoid short-circuit.
(3) Make sure each cutter can rotate independently so as not to break the main shaft.
(4) Long time service of cutters will make cutters hardness lower, new cutters are suggested for better work.
3. Spare Parts List of Marine Mobile Rust Romoving Machine
1

Pentagonal Cutter

One set contains:

4 flail shafts, 1.1kg washers,

76 pcs pentagonal cutters

2

Hexagonal Cutter

One set contains:

4 flail shafts, 1.1kg washers,

76 pcs hexagonal cutters

3

Beam Cutter

One set contains:

4 flail shafts, ca.4.6kg beam cutters

4

Rubber Synchronous Belt

HTD680-8M

1PCS

5

Bearing

NSK6006ZZ

1PCS

6

Bearing

NSK6303ZZ

2PCS

7

Hexagonal Shaft

S19mmx330mm

1SET

8

Tungsten Carbide Drum
Contact with us now