ZYG-0.3 Pressure Water Tank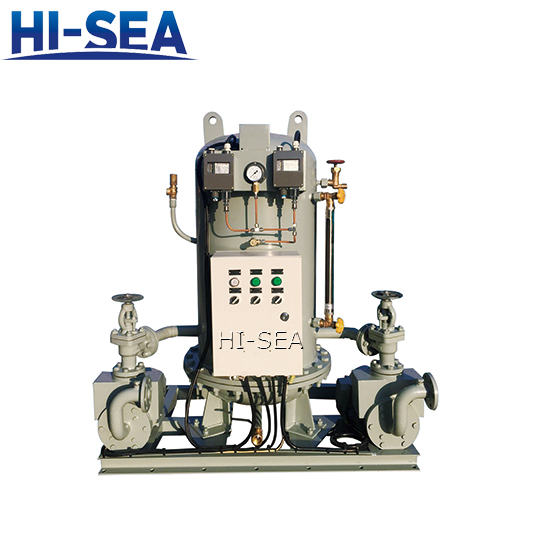 ZYG-0.3 Pressure Water Tank
1. ZYG-0.3 Pressure Water Tank Basic Parameters
Type: ZYG-0. 3
Capacity: 0.3m3
Work pressure: 0.4MPa
Design pressure: 0.44MPa
Pump set: Motor centrifugal vortex pump
Motor power: 2.2KW,440V,60HZ
Capacity: 3m3/h
Lift: 40m
Speed: 2900r/min
Quantity: 1 set/ship
Material: Carbon steel
2. ZYG-0.3 Pressure Water Tank Main Component List
| | | | | | | | |
| --- | --- | --- | --- | --- | --- | --- | --- |
| No. | Name | Qty | Remark | No. | Name | Qty | Remark |
| 1 | Body | 1 | | 6 | Safety valve | 1 | |
| 2 | Control box | 1 | | 7 | Pressure gauge | 1 | |
| 3 | Pressure Controller | 1 | | 8 | Drain valve | 1 | |
| 4 | Gas Charging | 1 | | 9 | Liquid Level Indicator | 1 | |
| 5 | Disconnecting-check Valve | 2 | | 10 | Motor centrifugal vortex pump | 2 | |
3.
ZYG-0.3 Pressure Water Tank
Quality Guarantee
The quality guarantee period expires one year after the ship delivered, whichever comes earlier. During this guarantee period, the Seller shall repair or change the equipment free of charge if the damage or failure of the equipment is caused by the Seller's design or manufacture quality, the Seller provides paid service in long term and the service cost depends on particular case. The seller provides debugging service for free.
4. ZYG-0.3 Pressure Water Tank General Drawing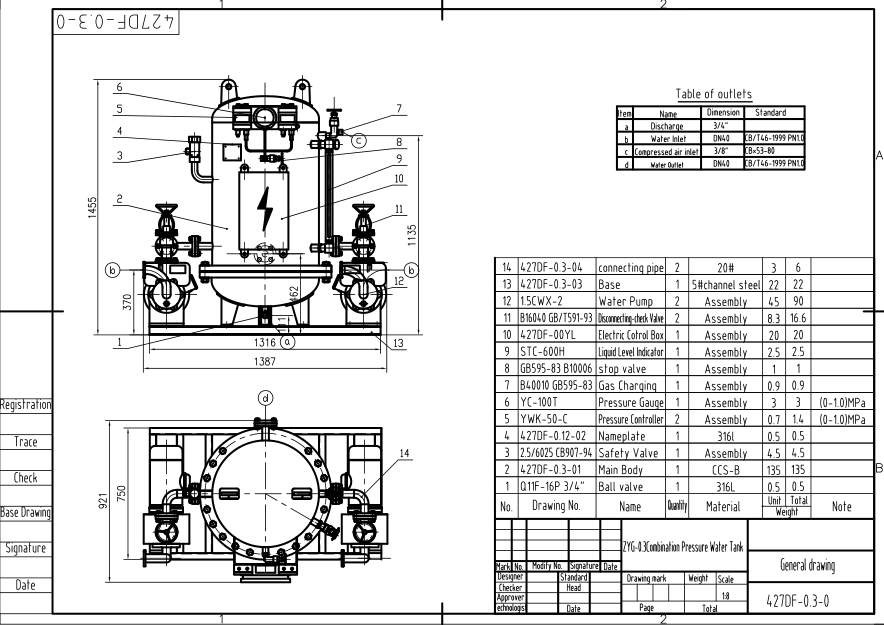 5. Quantity be approved by IMO, all kinds class certificate can be supply.

Contact with us now