Marine Fresh-water & Sea-water Combined Hydrophore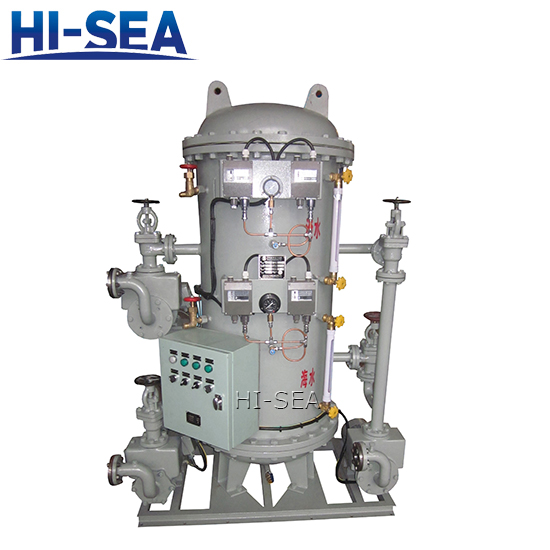 Marine Fresh-water & Sea-water Combined Hydrophore
1. Marine Fresh-water & Sea-water Combined Hydrophore Description
The marine Fresh-water & Sea-water Combined Hydrophore tank system is our new product, which combined fresh-water and sea water in one system. The upper one is fresh-water tank, the lower one is sea-water tank.
The new design hydrophore system will reduce much cost and room, but more covenient.
The material also can be carbon steel and stainless steel.
2. Marine Fresh-water & Sea-water Combined Hydrophore Technical Models
Model

Volume

(m3)

Design Pressure

(Mpa)

Working Pressure

(Mpa)

Water Pump

Model

Motor Power

(kw)

Capacity

(m3/h)

Pressure

(Mpa)

ZYG-0.2

0.2

0.7

0.4

1.5CWX-2

2.2

3

0.4

ZYG-0.3

0.3

ZYG-0.5

0.5

ZYG-1.0

1

ZYG-1.5

1.5

ZYG-2.0

2

ZYG-2.5

2.5
3. Marine Fresh-water & Sea-water Combined Hydrophore Principle

The device uses the pressure water pumped by water pump in tank to compress air so as to keep the water in tank under a proper pressure for the use on board.
Liquid level meter: to show the pressure in tank.
Pressure controller: to control the start and stop of water pump. When the pressure in tank is under 0.3Mpa, the water pump will start to feed water into tank until the pressure reaches 0.4Mpa.
Safety valve: When the pressure in tank is more than 0.4Mpa, the safety valve will open to release the pressure in tank.
Charge valve: to charge the compressed air into tank.
Discharging valve: to empty the water in tank when maintaining.
4. Quantity be approved by IMO, all kinds class certificate can be supply.

Related products for "Marine Fresh-water & Sea-water Combined Hydrophore"
Contact with us now