MARINE & OFFSHORE EQUIPMENT
INDUSTRY EQUIPMENT
STOCK LIST
Marine Hydrophore Device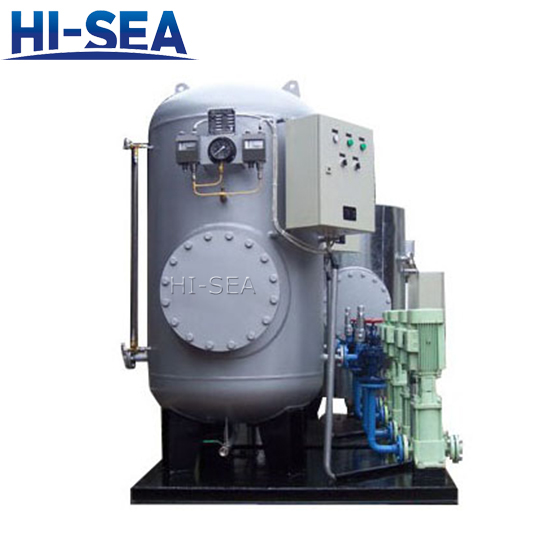 Marine Hydrophore Device
1. Marine Hydrophore Device Preface
This marine hydrophore device, an integration of gressure water vessel, water pump and valve pipe, is the best water supply unit that is applicable to various types of sea water and fresh water piping water supply systems.They have the characteristics of modular unit,compact structure, beautiful shape and easy installation and maintenance.
2. Marine Hydrophore Device Main Technical Parameters
Model

Volume

(m3)

Design Pressure

(Mpa)

Working Pressure

(Mpa)

Water Pump

Model

Motor Power

(kw)

Capacity

(m3/h)

Pressure

(Mpa)

ZYG-0.2

0.2

0.7

0.4

1.5CWX-2

2.2

3

0.4

ZYG-0.3

0.3

ZYG-0.5

0.5

ZYG-1.0

1

ZYG-1.5

1.5

ZYG-2.0

2

ZYG-2.5

2.5
3. Marine Hydrophore Device Basic Dimension
Model

Overall Size(mm)

Base Size(mm)

Water Inlet

Water Outlet

Draining Outlet

DN

L

B

H

A

B

DN

ZYG-0.2

500

1130

745

1635

1040

600

40

25

20

ZYG-0.3

600

1170

742

1690

1080

600

32

20

ZYG-0.5

700

1236

955

1920

1160

700

32

20

ZYG-1.0

900

1585

1216

2153

1510

960

40

20

ZYG-1.5

1000

1604

1310

2615

1600

1000

40

20

ZYG-2.0

1200

1812

1525

2473

1810

1220

40

25

ZYG-2.5

1200

1812

1525

2873

1810

1220

40

25
4. Marine Hydrophore Device
Maintenance
(1) Check the tightness of connectors and cocks of suction pipeline so as to avoid the air is sucked in.
(2) Check the tightness of charge valve
(3) Check whether the pressure in tank is in control range. If the pressure is too low for a long time, please open the charge valve to fill in appropriate quantity of air.
(4) Remove and clean the water tank regularly. After cleaning and brushing the inner wall, determine whether repaint according to flaking condition of painting. Repaint the out surface with anti-corrosive paint, meanwhile, replace wearing parts. After the spare parts are dry, reassemble it.
(5) Speaking of maintenance of water pump, please see the instruction book of water pump.
5. Quantity be approved by IMO, all kinds class certificate can be supply.

Related products for "Marine Hydrophore Device"
Contact with us now