Tungsten Halogen Search Light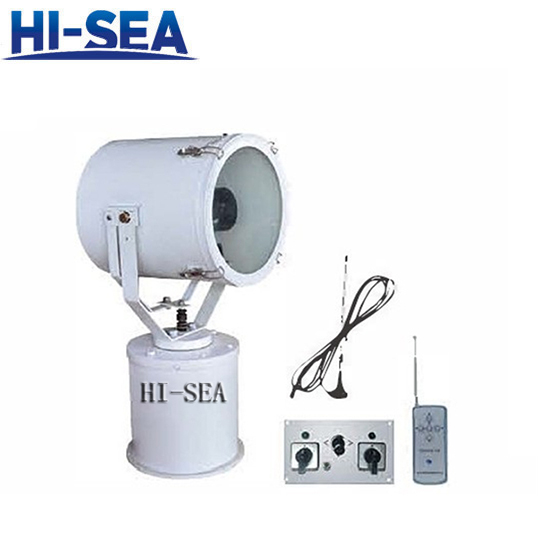 Tungsten Halogen Searchlight
The Scope of Application:
Applied to far distance illumination and searching when night navigation,especially for illumination of sea-route and two banks and surface search when across the complex water area,such as narrow channel and the inland river way etc.
Product Characteristic:
The tungsten halogen cycle eliminates the blackening of the bulb, the filament operating temperature and light efficiency can be greatly improved, and the lamp life is also extended accordingly. Tungsten halogen lamp has higher illumination and better color rendering.
Parallel light-beam, far illumination distance, concentrated light the lamp can adjust up 20 degrees, 350 degrees horizontally.
Production Authentication:
Conform to GRADE ENTRY NORMS FOR STEEL SHIPS
Product Specification:
Type

Voltage

Power

Lamp Holder

Luminous Flux (lm)

Protection Class

Cable Outside Diameter

Weight

TG26

24V

250W

G6.35

5600

IP56

Ø10-Ø12

20.5kg

220V/50HZ/ 220V/60HZ

300W

GY9.5

6900

500W

12500

TG27

220V/50HZ/ 220V/60HZ

1000W

GY9.5

23000

IP56

Ø10-Ø12

20.5kg

TG28

220V/50HZ/ 220V/60HZ

2000W

GY16

53000

IP56

Ø12-Ø14

30kg

TG26-A

220V/50HZ/ 220V/60HZ

300W

GY9.5

6900

IP56

Ø13-Ø18

24.5kg

500W

12500

TG27-A

220V/50HZ/ 220V/60HZ

1000W

GY9.5

23000

IP56

Ø13-Ø18

24.5kg

TG28-A

220V/50HZ/ 220V/60HZ

2000W

GY16

53000

IP56

Ø14-Ø16

60.5kg

TG26-B

220V/50HZ/ 220V/60HZ

300W

G6.35

6900

IP56

Ø10-Ø12

16.5kg

500W

GY9.5

12500

TG27-B

220V/50HZ/ 220V/60HZ

1000W

GY9.5

23000

IP56

Ø10-Ø12

16.5kg

TG28-B

220V/50HZ/ 220V/60HZ

2000W

GY16

53000

IP56

Ø12-Ø14

30kg
Drawing ofTungsten Halogen Searchlight TG26-A: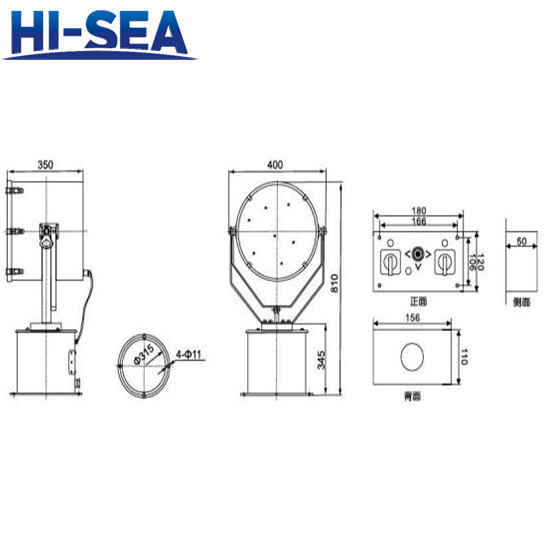 Photo One of Tungsten Halogen Searchlight :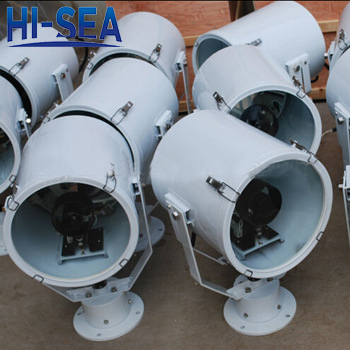 Photo Two of Tungsten Halogen Searchlight :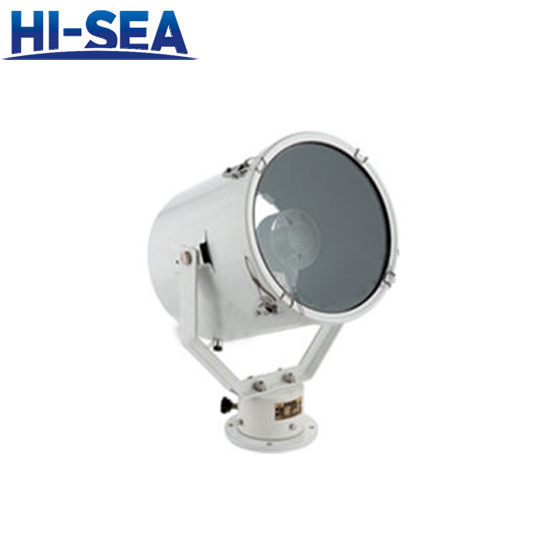 Contact with us now