Submerged ARC Welding Machine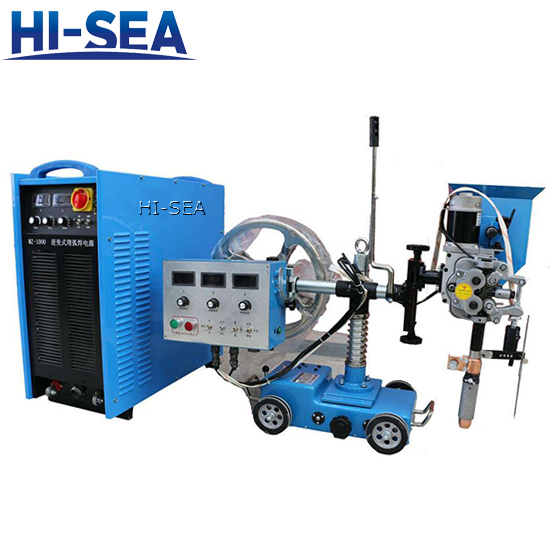 Submerged ARC Welding Machine
1. Application
Submerged ARC Welding Machine is mainly used for welding of large and medium carbon steel, alloy steel, stainless steel, the steel structure factory building, shipbuilding, boiler, chemical containers, Bridges, hoisting machinery and metallurgical machinery etc. The most widely used in the manufacturing.

2. Features
(1) Special arcing is adopted, the success rate of arcing is very high.
(2) The power fluctuation compensation circuit can keep the output voltage constant and current stable when the voltage fluctuation is 10%, so that the welding quality can be guaranteed.
(3) The perfect protective circuit greatly improves the reliability of the welder.

3. Specification
| | | | |
| --- | --- | --- | --- |
| | MZ-630 | MZ-1000 | MZ-1250 |
| rated input voltage | 3-380V | 3-380V | 3-380V |
| rated frequency | 50/60Hz | 50/60Hz | 50/60Hz |
| Rated Input Capacity | 57KVA | 98KVA | 110KVA |
| Rated power current | 68A | 112A | 140A |
| Current Adjust Range | 130A-630A | 200A-1000A | 250A-1250A |
| duty cycle | 100% | 100% | 100% |
| Maximum no-load voltage | 69V | 72V | 72V |
| Suitable Wire Diameter | ¢3 ¢4 | ¢3 ¢4 ¢5 | ¢3 ¢4 ¢5 |
| Moving Speed | 20-170cm/min | 20-170cm/min | 20-170cm/min |
| rate of feed | 20-200cm/min | 20-200cm/min | 20-200cm/min |
| Power dimensions | 970×470×690 | 970×570×690 | 970×570×690 |
| Power weight | 200Kg | 400Kg | 420Kg |
| Weight of car | 50Kg | 50Kg | 50Kg |
Contact with us now