Studless Link Anchor Chain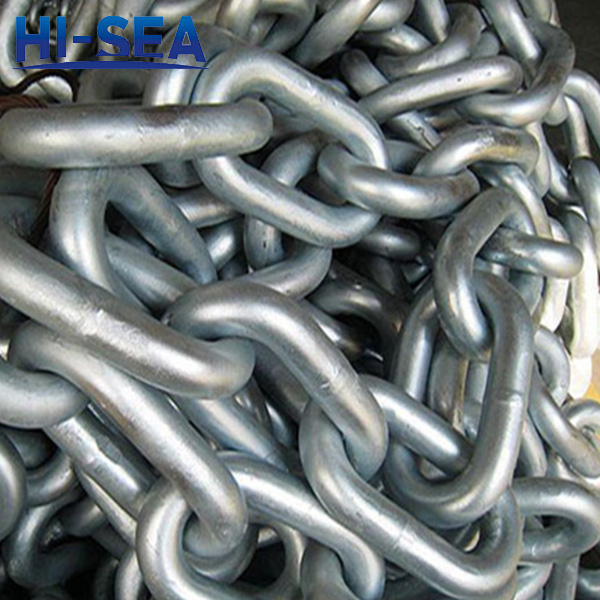 Studless Link Anchor Chain
Application:
Studless link anchor chains, also called open link anchor chain, are often used for offshore moorings. Compared with stud link anchor chains, the studless link anchor chains have the features of less weight, being suitable for larger shackles without end links and the avoidance of stud loosing problems.
Product Detail
1. Chain Diameter: 12.5mm to 70mm
2. Grade&Material: U2-CM490; U3-CM690
3. Surface: Self-colored, hot dip galvanized, painted black or as required.
4. Application: for permanent moorings.
Reasons for Choosing Hi-Sea Marine:
1. Experienced, Reputable Supplier;
2. Supply a Large Range of Marine Equipment;
3. High Quality Products;
4. Reasonable and Competitive Price;
5. Short Delivery;
6. Excellent One-Stop Service;
7. Meet All the Requirements of Customers;
8. Supply ABS, CCS, BV, NK or other Certificates as Required.
Drawing of Studless Link Anchor Chain:

Diameter

CHAIN LINK SIZE

BM2

BM3

APPROX.

U2 OPEN LINK CHAIN

U3 OPEN LINK CHAIN

WEIGHT

27.5M

OUTSIDE

OUTSIDE

PROOF

BREAKING

PROOF

BREAKING

KG

LENGTH

WIDTH

LOAD

LOAD

LOAD

LOAD

MM

MM

MM

KN

KN

KN

KN

12.5

75

45

41.2

82.6

56.4

112.8

85.41

14

84

50.4

51

101.9

70.76

141.51

106.55

16

96

57.6

66.2

132.3

92.42

184.83

139.43

17.5

105

63

78.89

157.78

110.55

221.1

178.35

19

114

68.4

93.6

187.2

130.32

260.64

217.68

20.5

123

73.8

108.64

217.27

151.7

303.42

229.14

22

132

79.2

125.4

250.9

174.4

349.4

264.49

24

144

86.4

149.9

298.9

207.9

415.8

341.82

26

156

93.6

175.4

350.8

244

488

369.94

28

168

100.8

203.8

406.7

283

566

427.04

30

180

108

234.2

467.5

324.9

649.8

490.98

32

192

115.2

265.6

531.2

369.6

739.3

559.65

34

204

122.4

299.9

599.8

417.3

834.6

671.52

36

216

129.6

336.1

672.3

467.8

935.7

707.85

38

228

136.8

374.4

748.7

521.3

1042.5

788.98

40

240

144

414.5

829.1

577.6

1155.2

869.36

42

252

151.2

457.7

915.3

636.8

1273.6

959.3

44

264

158.4

502.7

999.6

698.9

1398

1111.25

46

276

165.6

548.8

1097.6

763.9

1527.8

1152.07

48

288

172.8

597.8

1195.6

831.7

1663.5

1256.26

50

300

180

648.8

1239.6

902.5

1805

1360.41

52

312

187.2

697.63

1395.26

976.14

1952.28

1485.61

54

324

194.4

752.33

1504.66

1052.68

2105.36

1648.08

56

336

201.6

809.09

1618.18

1132.1

2264.2

1715.97

58

348

208.8

867.91

1735.82

1214.4

2428.8

1844.5

60

360

216

928.8

1857.6

1299.6

2599.2

1973.29

62

372

223.2

991.75

1983.5

1387.68

2775.36

2101.56

64

384

230.4

1056.77

2113.54

1478.66

2957.32

2298.47

66

396

237.6

1123.85

2247.7

1572.52

3145.04

2398.1

68

408

244.8

1192.99

2385.98

1669.26

3338.52

2522.88

70

420

252

1264.2

2528.4

1768.9

3537.8

2697.65
Marine anchor chain in factory: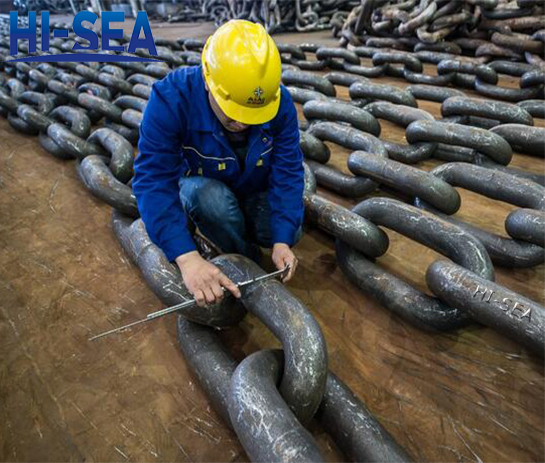 Contact with us now