Shipboard Incinerator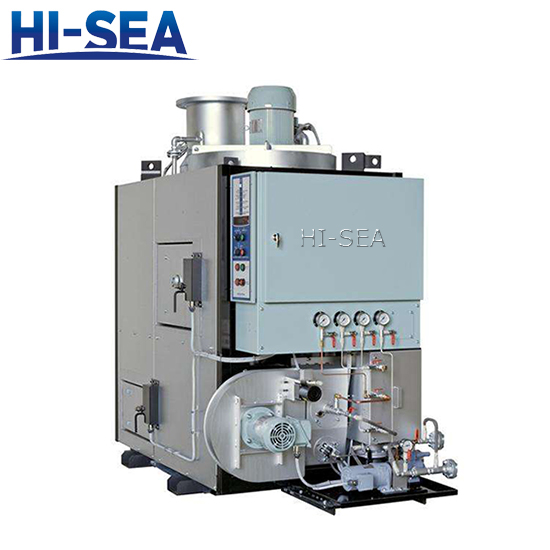 Shipboard Incinerator
1. Shipboard Incinerator Summary
The HI-SEA's marine Incinerator meets the following specifications: IMO Resolution MEPC 244(66)" Standard Specification for Shipboard Incinerators" and MARPOL73/78 Annex Ⅵ,Regulation16. It is designed for on board incineration of ship's waste oil and solid, it mainly consists of four parts:
Combustion chamber with diesel oil burner, sludge burner, and electric control pane.
Flue gas fan.
Flue gas damper.
Sludge tank with circulating pump and heater.
The incinerator is equipped with single door in front, which are intended for loading of solid waste and ash removing. The slagging door cannot be opened while the combustion chamber temperature is above 220℃. If the incinerator is running in cooling down mode,when the combustion temperature is less than 100℃, the slagging door can be opened after the incinerator stop .
Control box is mounted on the incinerator. The control box is built according to international standards for marine equipment. The operator panel which is located at the right side of the control panel has a touch screen and defined buttons for system starting /stopping and selecting burner modes.
Burning process is controlled by the PLC, monitored by the HMI (Human Machine Interface) and scanned by the flame detector. The combustion chamber temperatures are also regulated automatically by the PLC control system.
2. Working Process of Shipboard Incinerator
The technical parameter is optional, we can accommodate your requirements, please don't hesitate to contact us!
In the program, there is a register, this register is used to decide increase/decrease/shut off the fuel oil. When this register is lower, the fuel is decreased; if this register is higher, the fuel is increased. When the unit is start, this register is set in a middle level. If the chamber temperature if rising quickly, this register will be decrease slowly; if the chamber temperature rising slowly, this register will be increase slowly; if the chamber temperature is drop down, this register will increase fast; if the temperature is over 970gedree and without temperature drop down, this register will be decrease. That mean, the fuel will increase until the chamber temperature arise.
When the chamber temperature reached 970degree, this register will decrease step by step, and then the fuel will be decrease step by step. How long time will be taken is decided by the current value of this register, and level of the temperature arising. So the temperature of shut off fuel is not a constant. 970 degree is the point to decrease this register step by step. So there is a time delay, When the temperature arising fast, then the delay is shorter; when the temperature arise slowly, the delay will be a little longer, then the system get the time to increase the dosing level of sludge.
3. Shipboard Incinerator General Drawing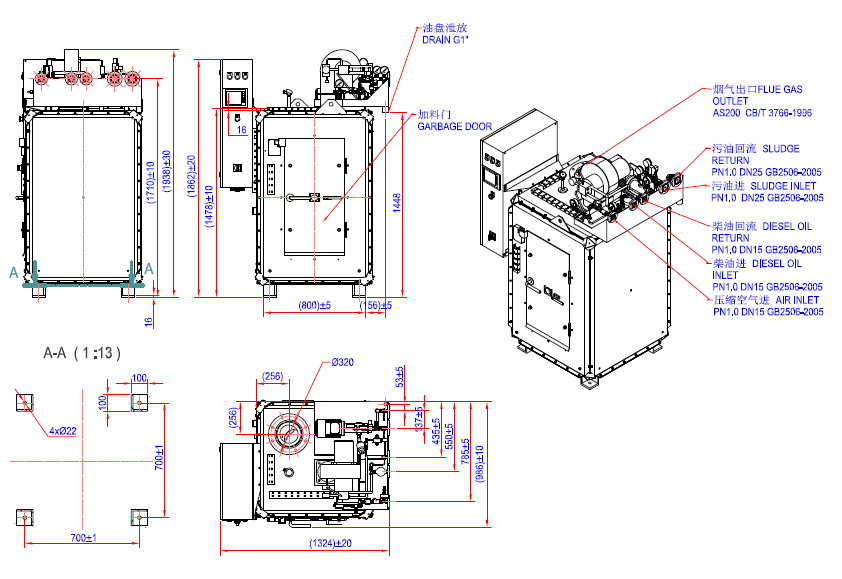 Contact with us now