Shark Jaw with Hydraulic Pump Station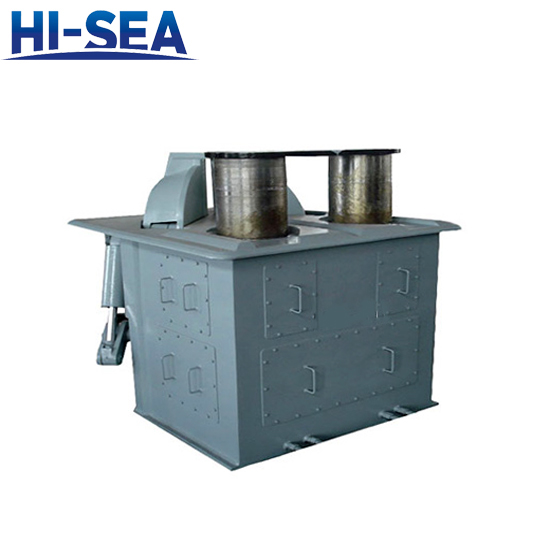 Shark Jaw with Hydraulic Pump Station
Application: Shark jaw is one component of shark jaw device which is widely used on various types of ships for the safety of vessels. It is mainly used to clamp the chains or wire cables to prevent the sliding of cables, wire ropes, and anchor chains. The jaws rises during the operation of handling and towing and falls to flush with deck to keep the deck slide way.
Features of Shark Jaw:
1. Hydraulic anchor handling device to secure chains or wire during operation;
2. Controlled by remote control panel located in the pilot house;
3. Each shark jaw can be raised and locked independently;
4. Watertight shark jaws mounting frame;
5. Pressure maintained by hydraulic cylinders;
6. Quick release system;
7. Replaceable jaw inserts for different chain sizes
8. Available accessories: hydraulic pump station, electrical box,control panel etc.
Technical Parameters
1. S.W.L: up to 700 tonnes;
2. Drive: hydraulic cylinders
3. Surface: Smoothened with no burs or sharp edges;
4. Painting: as you require.
5. Certificate:CCS, ABS,BV,DNV·GL,LR,RINA etc.
6. Application: for tug, anchor-handling and supply vessels.
Basic Parameters for Your Reference:
| | | | | |
| --- | --- | --- | --- | --- |
| Shark Jaw Model | Towing Pin Model | Bollard Pull(ton) | Holding Capacity(ton) | Power Required(kw) |
| SJ-100 | TP-100 | 40 | 100 | 15 |
| SJ-200 | TP-200 | 60 | 200 | 22 |
| SJ-300 | TP-300 | 85 | 300 | 22 |
| SJ-400 | TP-400 | 120 | 400 | 30 |
| SJ-500 | TP-500 | 150 | 500 | 30 |
| SJ-700 | TP-700 | 200 | 700 | 37 |
Contact with us now