Sea Water Hydrophore Unit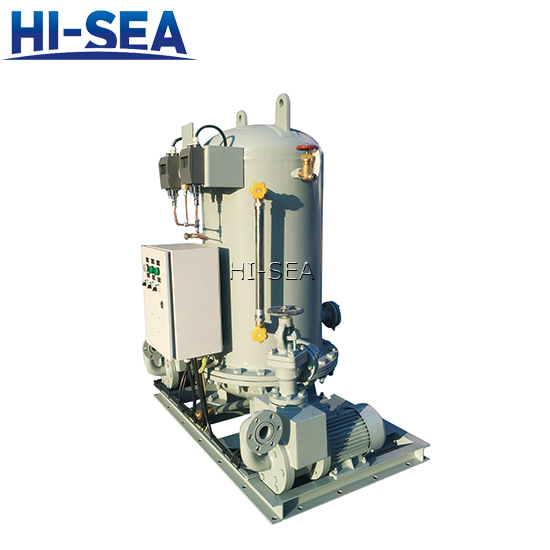 Sea Water Hydrophore Unit
1. Sea Water Hydrophore Unit Preface
The sea water hydrophore unit used for vessel washing. There with double high quality strong pressre pumps (one for stand-by), pressure gauge, pressure gauge valve, safety valve, pressure switch, etc.
(1) Pressure gauge: to show the pressure in tank.
(2) Pressure gauge valve: to control the start and stop of water pump. When the pressure in tank is under 0.4Mpa, the water pump will start to feed water into tank until the pressure reaches 0.6Mpa.
(3) Safety valve: When the pressure in tank is more than 0.63Mpa, the safety valve will open to release the pressure in tank.
(4) Liquid level indication: to show the water level condition in tank.
(5) Charge valve: to charge the compressed air into tank.
(6) Ball valve: to empty the water in tank when maintaining.
(7) Water inlet and outlet: connected to the outlet of water pump to inject water into tank.
(8) Water outlet: connected to water header pipe for the use on board.
(9) The water outlet of safety valve:to discharge the pressure water. It is connected to bilge.
(10) Discharging outlet: to empty all of the water in tank. It is connected to bilge.
2. Sea Water Hydrophore Unit Maintenance
(1) Check the tightness of connectors and cocks of suction pipeline so as to avoid the air is sucked in.
(2) Check the tightness of charge valve.
(3) Check whether the pressure in tank is in control range. If the pressure is too low for a long time, please open the charge valve to fill in appropriate quantity of air.
(4) Remove and clean the water tank regularly. After cleaning and brushing the inner wall, determine whether repaint according to flaking condition of painting. Repaint the out surface with anti-corrosive paint, meanwhile, replace wearing parts. After the spare parts are dry, reassemble it.
(5) Speaking of maintenance of water pump, please see the instruction book of water pump.
3. Sea Water Hydrophore Unit Main Technical Requirements
Model

Volume

(m3)

Design Pressure

(Mpa)

Working Pressure

(Mpa)

Water Pump

Model

Motor Power

(kw)

Capacity

(m3/h)

Pressure

(Mpa)

ZYG-0.2

0.2

0.7

0.4

1.5CWX-2

2.2

3

0.4

ZYG-0.3

0.3

ZYG-0.5

0.5

ZYG-1.0

1

ZYG-1.5

1.5

ZYG-2.0

2

ZYG-2.5

2.5
4. Quantity be approved by IMO, all kinds class certificate can be supply.
Contact with us now