MARINE & OFFSHORE EQUIPMENT
INDUSTRY EQUIPMENT
STOCK LIST
Portable CuSO4 reference electrode
Portable CuSO

4

reference electrode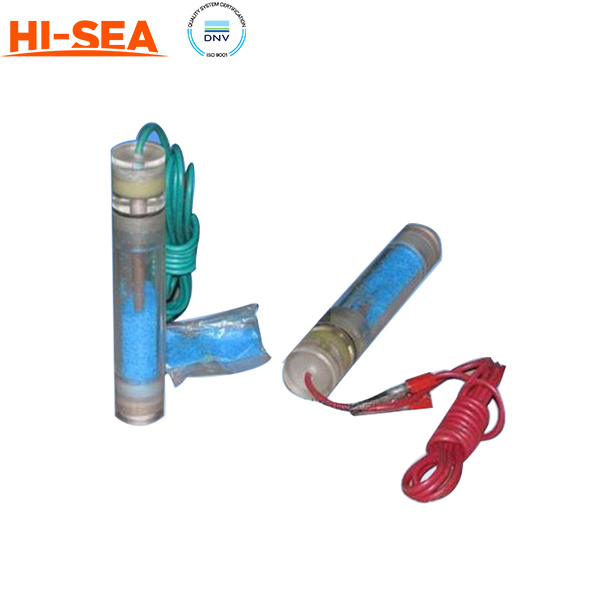 Instruction
Portable CuSO4 reference electrode is widely used in cathodic protection of metal structures for it is easy to carry and measure. such as buried pipelines and above ground storage tanks.
Application
1. Open the end cap and pour the copper sulfate crystal into the electrode tube.
2. Pour an appropriate amount of distilled water or purified water to dissolve the copper sulfate crystals to form a saturated copper sulfate solution. The sign of saturation is that the electrode tube always has crystals. Once tightened, it can be used to measure potential.
3. When measuring the potential, the electrode body is inserted into the dielectric (water or soil). As long as the end of the electrode is in contact with the soil, the measurement should be as close as possible to the pipe to reduce the influence of the ground potential. When measuring the potential, one end of the multimeter pen is connected to the reference electrode lead wire, and one end is connected to the test line or the test terminal.
Common Specification
Material

Model

Shape

Lifetime

Environment

Cu/ Saturation CuSO4

CCT

Column

Continue to use after supplementing CuSO4

Portable for on-site measurements in water and soil

MCT-I

Cylinder

>5

Used in soil media

MCT-II

Cylinder

>10

Buried long-life electrode

Ag / AgCl

CCY-1

Column

>3

Powder type for use in seawater

CCY-2

Mesh

>7

Thermal invasive coating for use in seawater

Ag/ Silver halide

CYL

Wafer

>5

Powder type for use in seawater

Zn electrode

CX-I

Column

>6

High purity zinc for seawater, fresh water

CX-II

Column

>6

Zinc alloy for seawater, fresh water
Related products for "Portable CuSO4 reference electrode"
Contact with us now