MARINE & OFFSHORE EQUIPMENT
INDUSTRY EQUIPMENT
STOCK LIST
Plasma Cutting Machine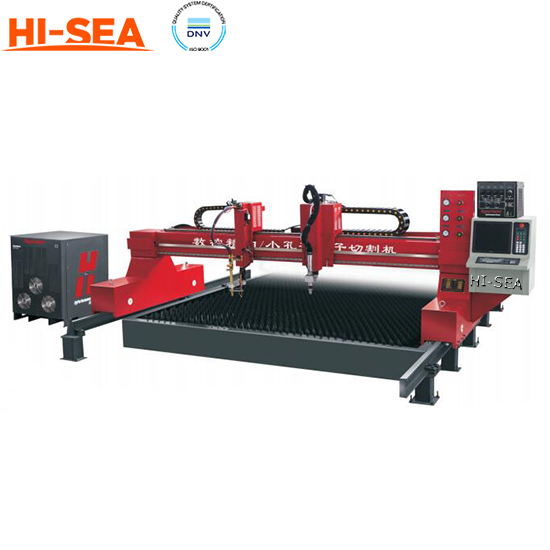 Plasma Cutting Machine
1. Application
Plasma Cutting Machine This equipment includes portal frame, track, CNC system, cutting table etc. Demand side shall be responsible for manufacture, installation and readjustment of the foundation and drag chain slot, etc in accordance with the drawings provided by supply side, in conformity with the requirements of the drawings. Perfect mechanical structure, superb processing technology, strict quality management, the whole machine runs smoothly and greatly improved, realizing plasma high finish, high precision cutting.

2. Features
- Distance of track (mm): 3500
- Effective cutting width (mm): 2000
- Track length (mm): 9000
- Effective cutting length (mm): 6000
- Elevation stroke of cutting torch (mm): 200
- Cutting mode: Oxygen-propane/plasma
- Cutting thickness: Flame: 6~200mm; Plasma: 3~20mm
- Dimension (L x W x H): 9000×4350×2000(mm)
- Cutting speed (MAX): ≤6000mm/min
- Travel speed (MAX): ≤12000mm/min
- Power supply: NC: AC220V±5% 2P 50Hz; Plasma 3P 380V
- Power: NC: about 3KW; Plasma 22KW
- Gas source: Oxygen 1.0-1.2MPa; Propane 0.1MPa

Related products for "Plasma Cutting Machine"
Contact with us now