Marine Zinc Alloy Sacrificial Anode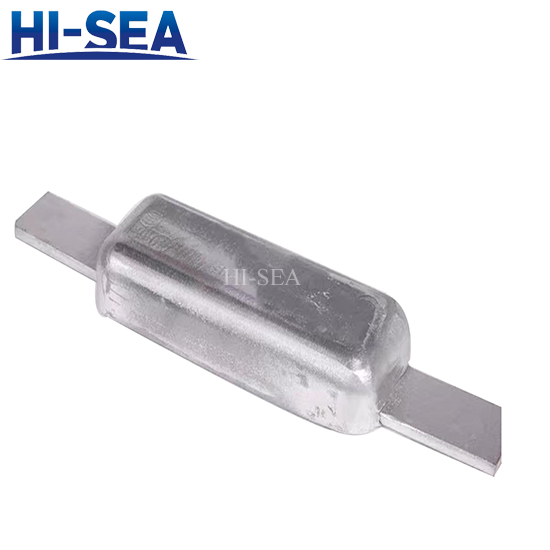 Marine Zinc Alloy Sacrificial Anode
1. Description
Our marine zinc alloy sacrificial anode products are approved by China Classification Society (CCS), and its quality meets the GB/T4950-2002 standard. The zinc anode chemical composition meets both US MIL-A-18001H and ASTM-B418 (type 1). standard.
2. Electrochemical Performance

Performance

Open circuit potential
-V(SCE)

Working potential
-V(SCE)

Actual capacity A·h/kg

Current efficiency
%

Dissolution condition

In sea water

-1.09~-1.05

-1.05~-1.00

≥780

≥95

Corrosion products are easy to fall off and the surface dissolves evenly

In the soil

≤-1.05

≤-1.03

≥530

≥65

Remark 1:Reference electrode - saturated calomel electrode
Remark 2:Medium - The seawater medium uses artificial seawater, the soil medium uses moist soil, and a filler is added around the anode.
3. Specification

Model

Specification / mm

Weight/ kg

A×B×C

ZH-1

800×140×60

47.0

ZH-2

800×140×50

39.0

ZH-3

800×140×40

31.0

ZH-4

600×120×50

25.0

ZH-5

400×120×50

16.0

ZH-6

500×100×40

13.6

ZH-7

400×100×40

11.0

ZH-8

300×100×40

7.5
Contact with us now